DIRTcar Summer Nationals
Tuesday, August 11, 2020
Winner: Nick Hoffman 2nd: Will Krup 3rd: Mike McKinney
Event Info
DIRTcar Summer Nationals

August 11, 2020
Sycamore Speedway
50W086 IL-64
Maple Park, IL
Event Description
The DIRTcar Summer Nationals and DIRTcar Summit Racing Equipment Modified Nationals heads to the beautiful Sycamore Speedway in Maple Park, Illinois, for the tours' fourth visit. Six different winners have emerged between both series and have never seen a repeat winner. Join us on DIRTVision – there won't be a shortage of action and excitement from the Sycamore Speedway.
Series Racing
Summit Modified Nationals DIRTcar Summer Nationals
Frequently Asked Questions
Support Divisions
DIRTcar Summer Nationals
Track Info
Track Phone
(815) 895-5454
Track Size & Type
0.375;
Race Recap
Hoffman Goes Flag-to-Flag for Fifth-Straight Summit Modified Victory at Sycamore
MAPLE PARK, IL – Nine starts. Six wins. Zero finishes outside of the top-two.
Nick Hoffman kept his DIRTcar Summit Racing Equipment Modified Nationals winning streak alive win a dominating victory Tuesday night at Sycamore Speedway, leading flag-to-flag in the 20-lap event and capturing his fifth-straight Summit Modified Feature win.
"I really love coming to this place, it always fits my driving style – slick and smooth," Hoffman said in Victory Lane. "I knew Will [Krup] was gonna be pretty good there, we tried some stuff on his car for the Feature. He was kinda complaining after the Heat Race, so I gave him a few things to try that I haven't done yet. He was pretty good, kept showing he was close to me. It was really cool to sweep the top-three again for the Elite [Chassis] cars, and we'll keep rolling tomorrow."
Coming into the week, the top-four drivers in the Summit Modified points standings were drivers of Hoffman's chassis brand Elite Chassis. Hunt Gossum was fourth in line, but not at the track Tuesday night.
Will Krup and Mike McKinney also stood on the podium after the checkered fell, having chased down Hoffman the entirety of the race. They each drove smart, clean races and it paid off in the end.
UP NEXT
The DIRTcar Summit Modified action continues Wednesday night, Aug. 12 at the Fairbury Speedway in Fairbury, IL, for another 25-lap, $1,500-to-win main event in Round #17 of the 2020 tour. Watch every lap live on DIRTVision presented by Drydene.
ABBREVIATED RESULTS (click for full results)
Feature (20 Laps) 1. 7-Nick Hoffman [1][]; 2. K19-Will Krup [3][]; 3. 96M-Mike McKinney [4][]; 4. 25W-Allen Weisser [6][]; 5. 1TPO-Tyler Peterson [5][]; 6. 24-Zeke McKenzie [2][]; 7. 36-Kenny Wallace [8][]; 8. 57-Tim Hamburg [7][]; 9. 1L-Dave Lilja [9][]; 10. 17H-Scott Hauge [10][]; 11. 44-Andy Sherley [11][] Hard Charger: 25W-Allen Weisser[+2]
[Read More]
Results
The streak just keeps going and going. Nick Hoffman has won yet another DIRTcar Summit Racing Equipment Modified Nationals Feature.
This time, Hoffman conquered the fast and heavy Sycamore Speedway – a place where he also took the checkers last year. Despite a smaller car count than he's used to seeing, Hoffman still faced some tough competition up front in Mike McKinney, Hunt Gossum and Kelly Kovski. Once again, he denied them all for his 45th career Summit Modified victory.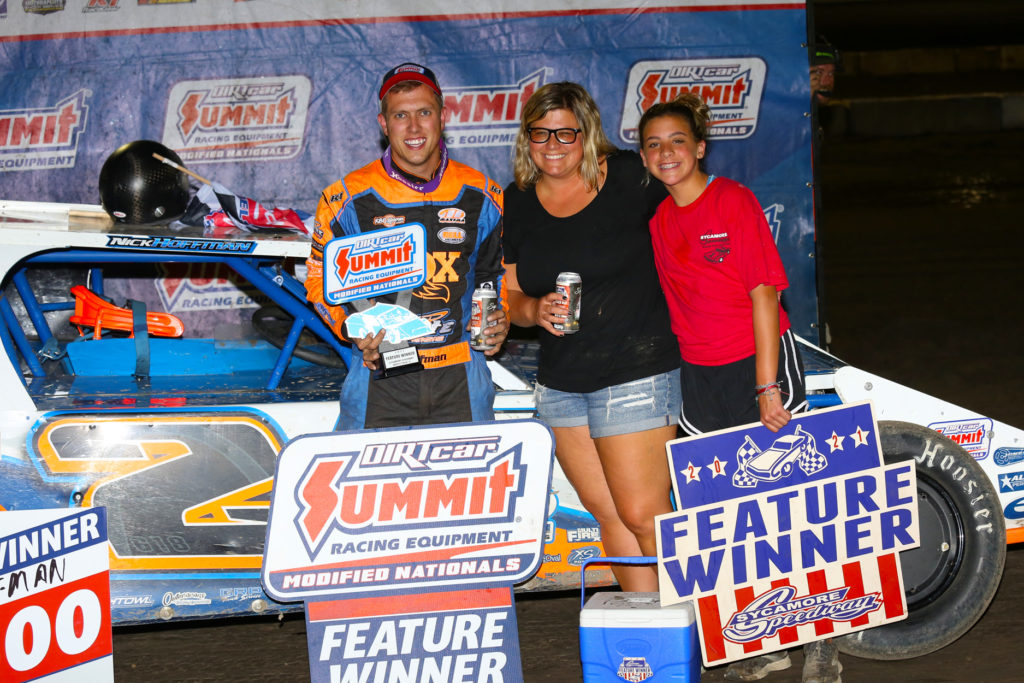 "Kinda shook the cherry tree tonight with only nine cars, but I'm here to win races and try and string as many of these together as I can," Hoffman said.
Looking at the high-piled cushion that outlined the corners from the rain the track had taken earlier in the day, Hoffman decided to take his usual route in maneuvering through – right through the middle.
"I was watching that Late Model race and it got pretty ledged-up, so I surely didn't wanna run up there," Hoffman said.
The race went green-to-checkered with Hoffman leading every lap, now bringing his total laps led to a still-perfect 175-for-175. The win also brings him to within seven of tying Mike Harrison for most all-time, and within seven of breaking his own record for the most wins in a single season at 14.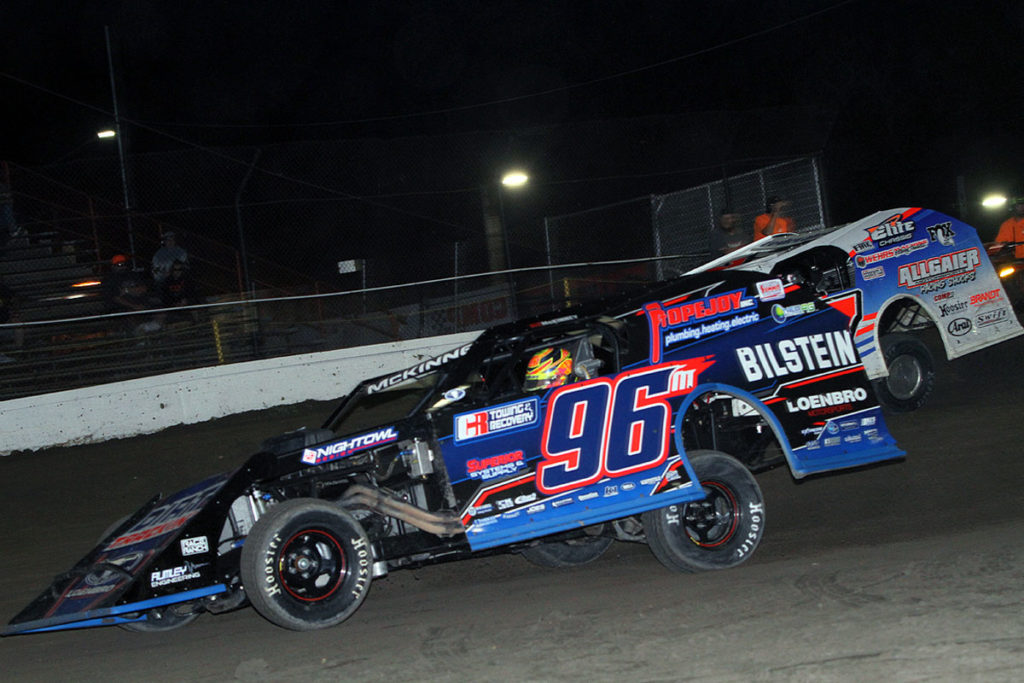 "Racecar's so balanced, I can pretty much go anywhere and it's really fun to drive right now," Hoffman said.
UP NEXT
The Summit Modified action continues Saturday night, June 26, with Round #10 from the Federated Auto Parts Raceway at I-55. Catch all the action live on DIRTVision presented by Drydene.
ABBREVIATED RESULTS (view full results)
Feature (20 Laps) 1. 2-Nick Hoffman[1]; 2. 96M-Mike McKinney[2]; 3. 7-Kelly Kovski[4]; 4. 99-Hunt Gossum[3]; 5. 57-Tim Hamburg[5]; 6. 14-AJ Meiferdt[6]; 7. 1H-Nash Hilmes[7]; 8. 1-Dave Lilja[9]; 9. 20-Richie Biswell[8]