DIRTcar Summer Nationals / Summit Modified Nationals
Wednesday, July 13, 2022
Winner: Bobby Pierce 2nd: Devin Moran 3rd: Billy Moyer Jr.
Event Info
DIRTcar Summer Nationals / Summit Modified Nationals

July 13, 2022
Montpelier Motor Speedway
700 S Jefferson St
Montpelier, IN
Series Racing
DIRTcar Summer Nationals DIRTcar UMP Modifieds
To Win Amount
$5,000.00
Feature Laps Length
40
Frequently Asked Questions
Support Divisions
DIRTcar UMP Modifieds
To Win Amount
$5,000.00
Track Info
Track Phone
(765) 728-8210
Track Email
montpelierspeedway@gmail.com
Track Size & Type
0.250;
Race Recap
DOWN AND DIRTY: Pierce Uses Low Side of Montpelier to Win Sixth of Season
Not even Mother Nature could hold back the determination of Bobby Pierce Wednesday night.
After a rain shower delayed the program, the DIRTcar Summer Nationals' debut at Montpelier Motor Speedway took the green flag for 40 laps around the 1/4-mile. Pierce started from fifth on the grid and worked his way through positions four and three in the first 20 laps, getting around Joe Godsey and Payton Freeman in the bottom lane – a place few others dared to venture out.
"The bottom was really good, it really surprised me," Pierce, of Oakwood, IL, said in Victory Lane. "I was talking with some buddies up in the grandstands about it, and I was like, 'I don't think the bottom's gonna come in.' But it shocked me, it did."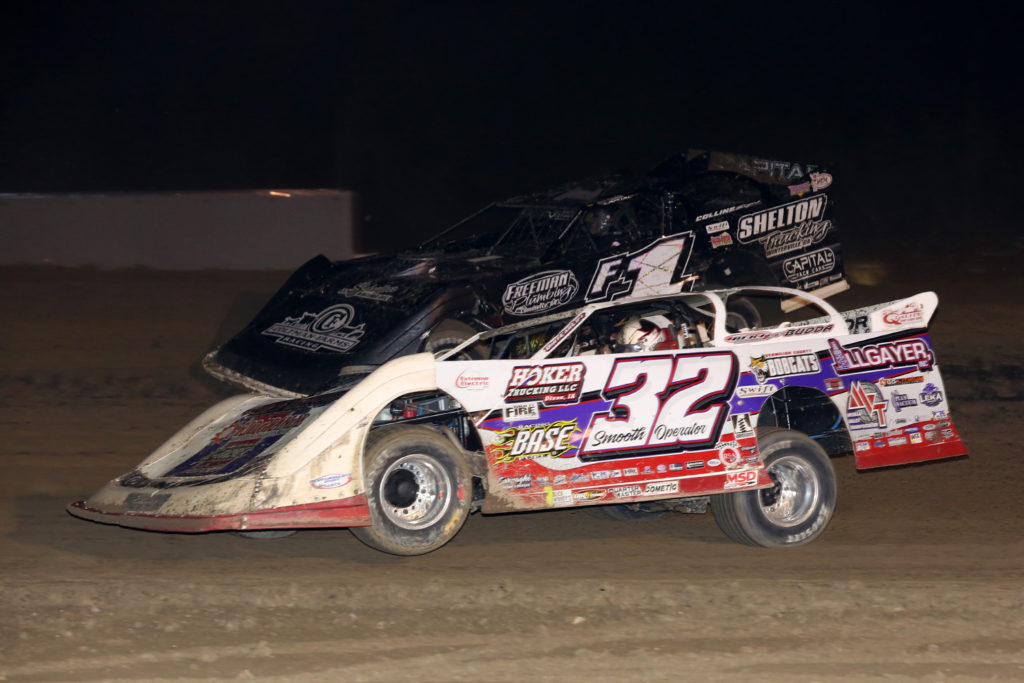 Now with only Billy Moyer Jr. and leader Devin Moran still in his path, Pierce could smell Victory Lane stronger with every lap completed. Moran and Moyer were the first to reach lapped traffic, and when they both faltered behind the slower cars, Pierce took advantage, getting by both cars on the bottom.
A few final restarts in the final 10 laps tested Pierce's concentration at the drop of the green, but neither Moran nor Moyer could get the jump they needed to make up the gap, and Pierce drove away with his sixth victory on the Hell Tour this year.
Devin Shiels, of Britton, MI, crossed the line fourth in his first appearance of the season on tour, while Summer Nationals rookie sensation Payton Freeman, of Commerce, GA, bagged his second-straight top-five finish in fifth.
UP NEXT
The DIRTcar Summer Nationals Late Models are back in action Thursday at Shadyhill Speedway in Medaryville, IN. If you can't be at the track, watch all the action live on DIRTVision.
ABBREVIATED RESULTS (view full results)
Feature (40 Laps)
32-Bobby Pierce[5]; 2. 9-Devin Moran[2]; 3. 21-Billy Moyer Jr[4]; 4. 51S-Devin Shiels[7]; 5. F1-Payton Freeman[3]; 6. 42- Chad Finley[8]; 7. 27-Eric Spangler[10]; 8. 17-Jeremy Creech[6]; 9. 14G-Joe Godsey[1]; 10. 20TC-Tristan Chamberlain[14]; 11. 17SS-Brenden Smith[12]; 12. 757-Bradley Jameson[21]; 13. 71-Rusty Smith[17]; 14. 30-Mark Voigt[19]; 15. 23NZ-Mick Quin[18]; 16. 91-Rusty Schlenk[11]; 17. 38-Thomas Hunziker[22]; 18. 31AUS-Paul Stubber[9]; 19. 14R-Jeff Roth[13]; 20. 44S-Colin Shipley[16]; 21. 95J-Jerry Bowersock[15]; 22. 16-Rusty Griffaw[20]
[Read More]
Results
Feature Results
| POS | Start | +/- | # | Driver | Laps | Behind | Led | Status | Points | Money |
| --- | --- | --- | --- | --- | --- | --- | --- | --- | --- | --- |
| | | 0 | | Bobby Pierce | | 0.000 | | Running | | $ |
| | | 0 | | Devin Moran | | 0.000 | | Running | | $ |
| | | 0 | | Billy Moyer Jr | | 0.000 | | Running | | $ |
| | | 0 | | Devin Shiels | | 0.000 | | Running | | $ |
| | | 0 | | Payton Freeman | | 0.000 | | Running | | $ |
| | | 0 | | Chad Finley | | 0.000 | | Running | | $ |
| | | 0 | | Eric Spangler | | 0.000 | | Running | | $ |
| | | 0 | | Jeremy Creech | | 0.000 | | Running | | $ |
| | | 0 | | Joe Godsey | | 0.000 | | Running | | $ |
| | | 0 | | Tristan Chamberlain | | 0.000 | | Running | | $ |
| | | 0 | | Brenden Smith | | 0.000 | | Running | | $ |
| | | 0 | | Bradley Jameson | | 0.000 | | Running | | $ |
| | | 0 | | Rusty Smith | | 0.000 | | Running | | $ |
| | | 0 | | Mark Voigt | | 0.000 | | Running | | $ |
| | | 0 | | Mick Quin | | 0.000 | | Running | | $ |
| | | 0 | | Rusty Schlenk | | 0.000 | | Running | | $ |
| | | 0 | | Thomas Hunziker | | 0.000 | | Running | | $ |
| | | 0 | | Paul Stubber | | 0.000 | | Running | | $ |
| | | 0 | | Jeff Roth | | 0.000 | | Running | | $ |
| | | 0 | | Colin Shipley | | 0.000 | | Running | | $ |
| | | 0 | | Jerry Bowersock | | 0.000 | | Running | | $ |
| | | 0 | | Rusty Griffaw | | 0.000 | | Running | | $ |
Consolation Race Results
| POS | Start | +/- | # | Driver | Laps | Behind | Led | Status | Points | Money |
| --- | --- | --- | --- | --- | --- | --- | --- | --- | --- | --- |
| | | 0 | | Colin Shipley | | 0.000 | | Running | | $ |
| | | 0 | | Rusty Smith | | 0.000 | | Running | | $ |
| | | 0 | | Mick Quin | | 0.000 | | Running | | $ |
| | | 0 | | Bradley Jameson | | 0.000 | | Running | | $ |
| | | 0 | | Daniel Hopper | | 0.000 | | Running | | $ |
| | | 0 | | Thomas Hunziker | | 0.000 | | Running | | $ |
| | | 0 | | Drew Smith | | 0.000 | | Running | | $ |
| | | 0 | | Jeff Robertson | | 0.000 | | Running | | $ |
| | | 0 | | Mark Voigt | | 0.000 | | Running | | $ |
| | | 0 | | Josh Robertson | | 0.000 | | Running | | $ |
| | | 0 | | Rich Dawson | | 0.000 | | Running | | $ |
| | | 0 | | Rusty Griffaw | | 0.000 | | Running | | $ |
| | | 0 | | Dan Richardson | | 0.000 | | Running | | $ |
| | | 0 | | Troy Worrick | | 0.000 | | Running | | $ |
Heat 1 Results
| Pos. | Start | +/- | # | Driver | Hometown | Difference |
| --- | --- | --- | --- | --- | --- | --- |
| | | 0 | | Payton Freeman | Commerce, GA | 0.000 |
| | | 0 | | Billy Moyer Jr | Batesville, AR | 0.000 |
| | | 0 | | Devin Shiels | Britton, MI | 0.000 |
| | | 0 | | Eric Spangler | Lake City, MI | 0.000 |
| | | 0 | | Jeff Roth | Bentonville, AR | 0.000 |
| | | 0 | | Colin Shipley | Weston, OH | 0.000 |
| | | 0 | | Mick Quin | Hawks Bay, NZ | 0.000 |
| | | 0 | | Josh Robertson | Defiance, OH | 0.000 |
| | | 0 | | Mark Voigt | Marine, IL | 0.000 |
| | | 0 | | Bradley Jameson | Royal Center, IN | 0.000 |
Heat 2 Results
| Pos. | Start | +/- | # | Driver | Hometown | Difference |
| --- | --- | --- | --- | --- | --- | --- |
| | | 0 | | Devin Moran | Dresden, OH | 0.000 |
| | | 0 | | Bobby Pierce | Oakwood, IL | 0.000 |
| | | 0 | | Chad Finley | St Johns, MI | 0.000 |
| | | 0 | | Rusty Schlenk | McClure, OH | 0.000 |
| | | 0 | | Tristan Chamberlain | Richmond, IN | 0.000 |
| | | 0 | | Rusty Smith | Sylvania, OH | 0.000 |
| | | 0 | | Daniel Hopper | Peru, IN | 0.000 |
| | | 0 | | Drew Smith | Sylvania, OH | 0.000 |
| | | 0 | | Rusty Griffaw | Festus, MO | 0.000 |
| | | 0 | | Troy Worrick | MARIAN, IN | 0.000 |
Heat 3 Results
| Pos. | Start | +/- | # | Driver | Hometown | Difference |
| --- | --- | --- | --- | --- | --- | --- |
| | | 0 | | Joe Godsey | Edinburgh, IN | 0.000 |
| | | 0 | | Jeremy Creech | Richmond, IN | 0.000 |
| | | 0 | | Paul Stubber | Bunbury, WAU | 0.000 |
| | | 0 | | Brenden Smith | Dade City, FL | 0.000 |
| | | 0 | | Jerry Bowersock | Wapakoneta, OH | 0.000 |
| | | 0 | | Thomas Hunziker | Bend, OR | 0.000 |
| | | 0 | | Jeff Robertson | Definance, OH | 0.000 |
| | | 0 | | Rich Dawson | Lowell, IN | 0.000 |
| | | 0 | | Dan Richardson | Macy, IN | 0.000 |
Qualifying Results
| POS | Start | Car | Driver | Time | Difference |
| --- | --- | --- | --- | --- | --- |
| 1 | 9 | 21 | Billy Moyer Jr | 13.731 | 0.000 |
| 2 | 7 | F1 | Payton Freeman | 14.126 | -0.395 |
| 3 | 2 | 27 | Eric Spangler | 14.200 | -0.469 |
| 4 | 4 | 51S | Devin Shiels | 14.432 | -0.701 |
| 5 | 6 | 44S | Colin Shipley | 14.679 | -0.948 |
| 6 | 8 | 30 | Mark Voigt | 15.030 | -1.299 |
| 7 | 10 | 757 | Bradley Jameson | 15.160 | -1.429 |
| 8 | 5 | 14R | Jeff Roth | 15.323 | -1.592 |
| 9 | 1 | 23NZ | Mick Quin | 15.483 | -1.752 |
| 10 | 3 | P33 | Josh Robertson | 16.072 | -2.341 |
Qualifying Flight 2 Results
| POS | Start | Car | Driver | Time | Difference |
| --- | --- | --- | --- | --- | --- |
| 1 | 5 | 32 | Bobby Pierce | 14.041 | 0.000 |
| 2 | 8 | 9 | Devin Moran | 14.062 | -0.021 |
| 3 | 10 | 91 | Rusty Schlenk | 14.287 | -0.246 |
| 4 | 3 | 42 | Chad Finley | 14.659 | -0.618 |
| 5 | 9 | 16 | Rusty Griffaw | 14.731 | -0.690 |
| 6 | 1 | 79 | Troy Worrick | 14.804 | -0.763 |
| 7 | 2 | 71DS | Drew Smith | 15.242 | -1.201 |
| 8 | 6 | 71 | Rusty Smith | 15.703 | -1.662 |
| 9 | 4 | 41 | Daniel Hopper | 16.524 | -2.483 |
| 10 | 7 | 20TC | Tristan Chamberlain | 16.524 | -2.483 |
Qualifying Flight 3 Results
| POS | Start | Car | Driver | Time | Difference |
| --- | --- | --- | --- | --- | --- |
| 1 | 4 | 14G | Joe Godsey | 15.742 | 0.000 |
| 2 | 9 | 17SS | Brenden Smith | 16.094 | -0.352 |
| 3 | 5 | 17 | Jeremy Creech | 16.126 | -0.384 |
| 4 | 2 | 80 | Rich Dawson | 16.531 | -0.789 |
| 5 | 1 | 95J | Jerry Bowersock | 16.700 | -0.958 |
| 6 | 8 | 31AUS | Paul Stubber | 16.986 | -1.244 |
| 7 | 3 | 8 | Dan Richardson | 20.187 | -4.445 |
| 8 | 6 | 38 | Thomas Hunziker | 21.406 | -5.664 |
| 9 | 7 | P3 | Jeff Robertson | 21.406 | -5.664 |