LaSALLE, IL – They say to be the best, you've got to beat the best. Not only did the defending DIRTcar Summer Nationals champion Brian Shirley beat every driver on one of the best rosters the tour will compete against all season, but he dominated them on Wednesday night at LaSalle Speedway for the 30th Summer Nationals victory of his career.
"This sport's very humbling," Shirley said in Victory Lane. "You can be good one night and be horrible the next. So, we're just going to do the best we can do and take it as it comes."
Several big-name drivers from the World of Outlaws Morton Buildings Late Model Series and beyond came out to challenge the regulars and veterans of the Summer Nationals Wednesday night, and it made for one stacked roster heading into the evening's action.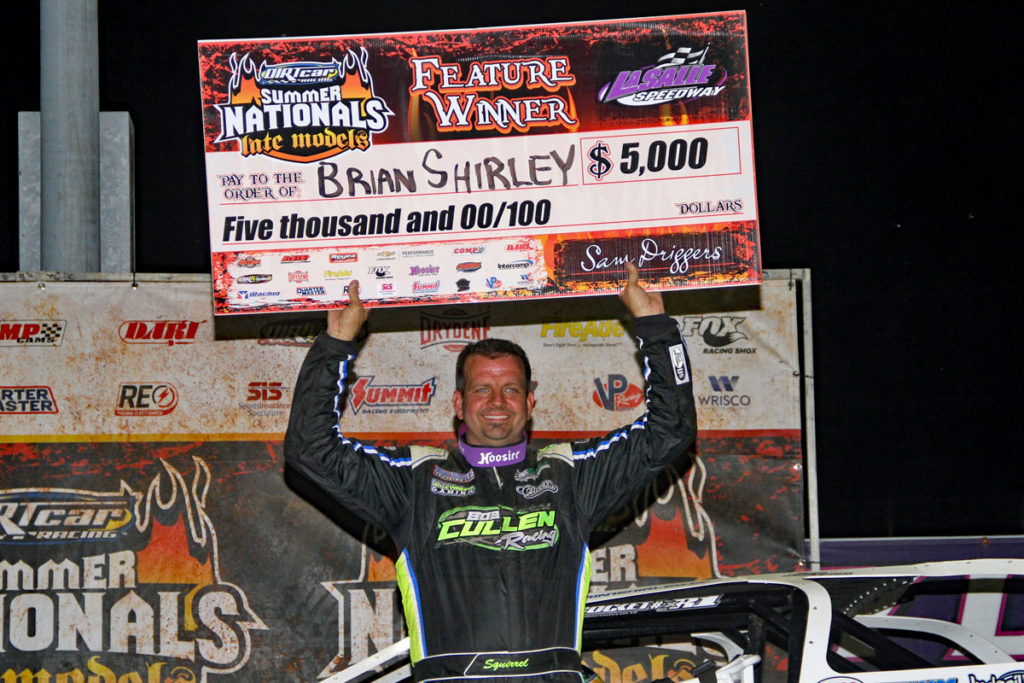 Names like Chase Junghans, Boom Briggs, Tyler Erb, Kyle Bronson and more made the trip out to LaSalle for the track's first event of 2020 to mix-it-up with former champions of the Hell Tour like Shannon Babb, Bobby Pierce and Dennis Erb Jr. But the name on the big check in Victory Lane at the end of the night was none other than the man who beat them all and led flag-to-flag in the 40-lap contest, Brian Shirley.
Shirley opened the program by setting quick time in Qualifying, winning his Heat Race and redrawing the pole for his Feature starting spot. Right from the drop of the green, Shirley's Rocket Chassis #3s took command out front. Not even the lapped traffic he faced while clicking off the laps could slow his pace.
For each of the 40 Feature laps, Shirley drove virtually unchallenged and, by the time he had taken the while flag, had lapped the field up to ninth. Truly, an impressive feat for the defending champ.
"To be honest, every race we go to – whether it's a Summer Nationals, World of Outlaws… Heck, I don't even care if we go to a $1,500-to-win local race, you've gotta go into every race as it's as tough as it could be. Any more of the competition is tough, it doesn't matter who comes in, where you go, what you do. It's just super tough," Shirley said of the deep competition he faces each year.
As one of three drivers to sit with two-or-more wins on the tour so far this year, Tyler Erb had another terrific run on the podium in second, while Dennis Erb Jr. followed-up his Feature win at Clarksville last Sunday with a third-place effort.
UP NEXT
The DIRTcar Summer Nationals action continues Thursday night at the Peoria Speedway with the completion of the July 9 show that was postponed due to rain. Catch all the action LIVE on DIRTVision.
ABBREVIATED RESULTS (click for full results)
Feature (40 Laps) 1. 3S-Brian Shirley [1][]; 2. 1T-Tyler Erb [4][]; 3. 28-Dennis Erb [5][]; 4. 18-Shannon Babb [3][]; 5. 18J-Chase Junghans [7][]; 6. 24-Ryan Unzicker [6][]; 7. 99JR-Frank Heckenast Jr [11][]; 8. 99B-Boom Briggs [2][]; 9. 10S-Scott Schmitt [14][]; 10. 32-Bobby Pierce [8][]; 11. 25-Jason Feger [9][]; 12. 59-Garrett Alberson [16][]; 13. B1-Brent Larson [15][]; 14. 21B-Rich Bell [21][]; 15. 89-Mike Spatola [10][]; 16. 15S-Taylor Scheffler [12][]; 17. 4G-Bob Gardner [17][]; 18. 48-Tim Lance [19][]; 19. 1M-Mike Mataragas [18][]; 20. 58-Jeremiah Hurst [13][]; 21. B12-Kevin Weaver [20][]; 22. 48L-Tim Lance Jr [22][] Hard Charger: 21B-Rich Bell[+7]