LAKE CITY, MI – What started just 45 days ago in Illinois is now all said and done. With seven Feature victories to his credit, Brian Shirley is a DIRTcar Summer Nationals champion for the fourth time in his career.
"I'm just proud of my team, proud of everybody that's a part of this deal. I just can't thank those guys enough for the support we get. We'll just keep going until we can't go anymore," Shirley told Summer Nationals announcer Ruben Mireles in Victory Lane.
Shirley and the Bob Cullen Racing team came into the Racing Electronics Champions Week finale at Merritt Speedway Saturday night with a 130-point advantage over the rest of the field and maintained it with a 7th-place finish in the Feature event, won by none other than Bloomington, IL's own Jason Feger.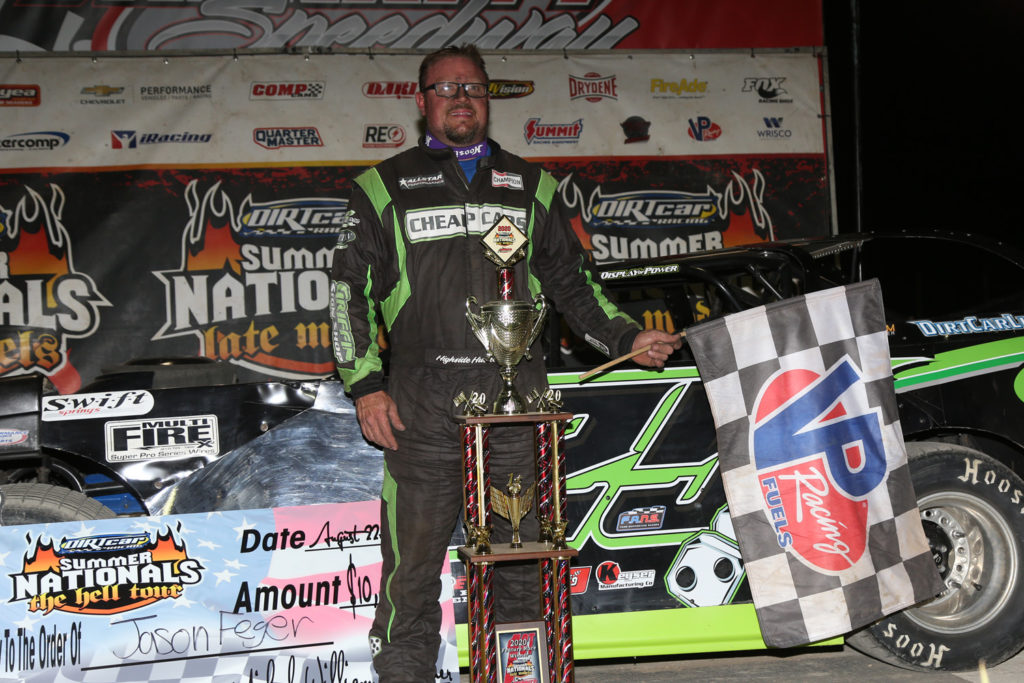 Feger's second Hell Tour victory of the season comes a whole five weeks after his first win of the season back on July 18 at Highland Speedway, where he also collected $10,000 for his 20th career Summer Nationals triumph.
"I sure wanted a lot more than two of these, but at least we won two $10,000's," Feger said after the win in Merritt Victory Lane. "I've had a lot of good runs here. Never won here, but a lot of good runs. I like coming here, though we don't get up here very often. Lots of great fans, it's a pretty fun little place."
Hosting the championship night for the first time in track history, Merritt Speedway played host to Feger's dominant victory in the 50-lap event, as he led every lap from start to finish to score the win over Ryan Gustin and Friday night's Feature winner Dona Marcoullier.
Gustin, who finished on the podium in every Feature event this week except one, picked up the $2,000 bonus as the Racing Electronics Champions Week #5 points champion. His average finish through the week was 3.8 – a far cry from his first three finishes in the opening tour races of 18th, 9th and 19th, but somehow was unable to score a victory.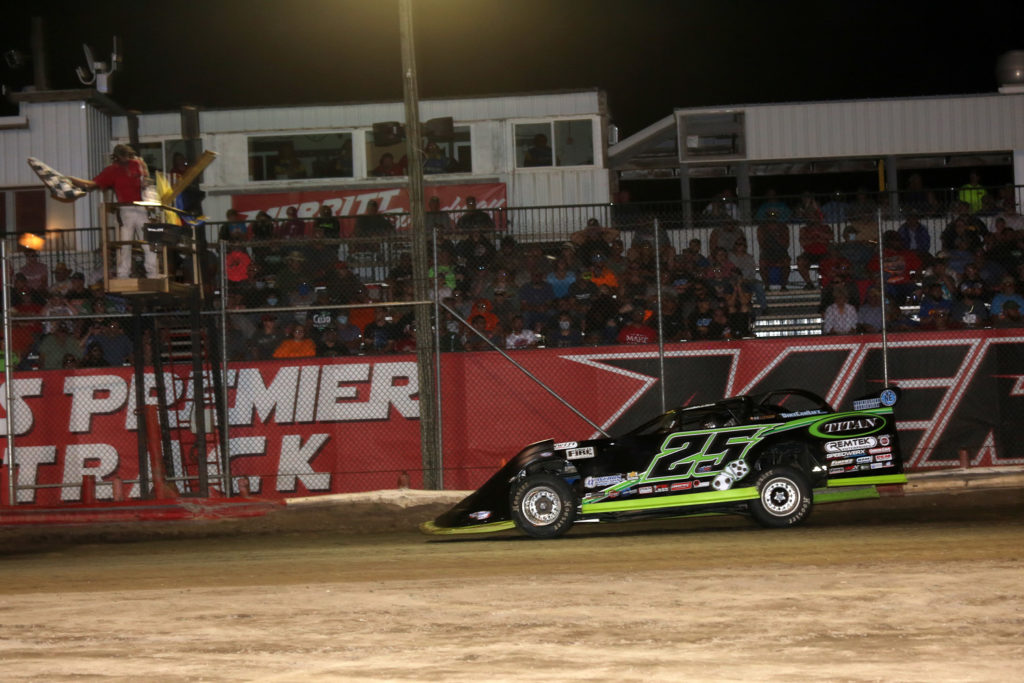 Shirley now joins fellow Illinoisans Dennis Erb Jr. and Bobby Pierce as the only drivers in tour history to win the overall points championship three times in-a-row. Shirley's first title came in 2012, on the back of five Feature wins and a 70-point gap over the runner-up.
After clinching the points title in each of the last three years, Shirley had been asked about the biggest things he's learned from racing the tour night-in and night-out, and his advice for the up-and-coming class of dirt track racing drivers aspiring to be just like him.
"You've just got to get up every day and work as hard as you can, do your best, and when things don't go your way, don't give up."
It's been 35 years in the making, and now another DIRTcar Summer Nationals season is in the books. The entire DIRTcar Racing family would like to thank all the drivers, crews and fans that came out to each track and took part in making the 2020 season a success. Here's to an even brighter Summer Nationals campaign next year!
ABBREVIATED RESULTS (click for full results)
Feature (50 Laps) 1. 25-Jason Feger [2][]; 2. 19R-Ryan Gustin [5][]; 3. 6M-Dona Marcoullier [4][]; 4. 50-Greg Gokey [3][]; 5. 87-David Mielke [6][]; 6. 4-Travis Stemler [1][]; 7. 3S-Brian Shirley [9][]; 8. 99JR-Frank Heckenast Jr [15][]; 9. 19X-Cody Bauer [16][]; 10. M14-Brandon Thirlby [12][]; 11. 21N-Logan Nickerson [11][]; 12. 21D-David Hilliker [17][]; 13. 27-Eric Spangler [19][]; 14. 16S-Mike Staszak [20][]; 15. 42JR-Mike Nelson [21][]; 16. 11X-Ryan Lanphierd [22][]; 17. 52-Brad Harden [10][]; 18. 42-Chad Finley [14][]; 19. 4G-Bob Gardner [8][]; 20. 4T-Andrew Terrill [13][]; 21. 91-Rusty Schlenk [7][]; 22. 7-Drake Troutman [18][] Hard Charger: 99JR-Frank Heckenast Jr[+7]