QUINCY, MI – After a rough past couple of races, the current DIRTcar Summer Nationals point leader Brian Shirley is back on top after earning his seventh Feature win of the season Wednesday night in the tour debut at Butler Motor Speedway.
Shirley got caught-up in a wreck in the Feature at Lincoln Speedway on Sunday night, leaving him with a 22nd-place DNF result. On Tuesday night at Kankakee County Speedway, he started on the outside pole, fell back to sixth and nearly got lapped. Twenty-four hours later, he's standing in Victory Lane.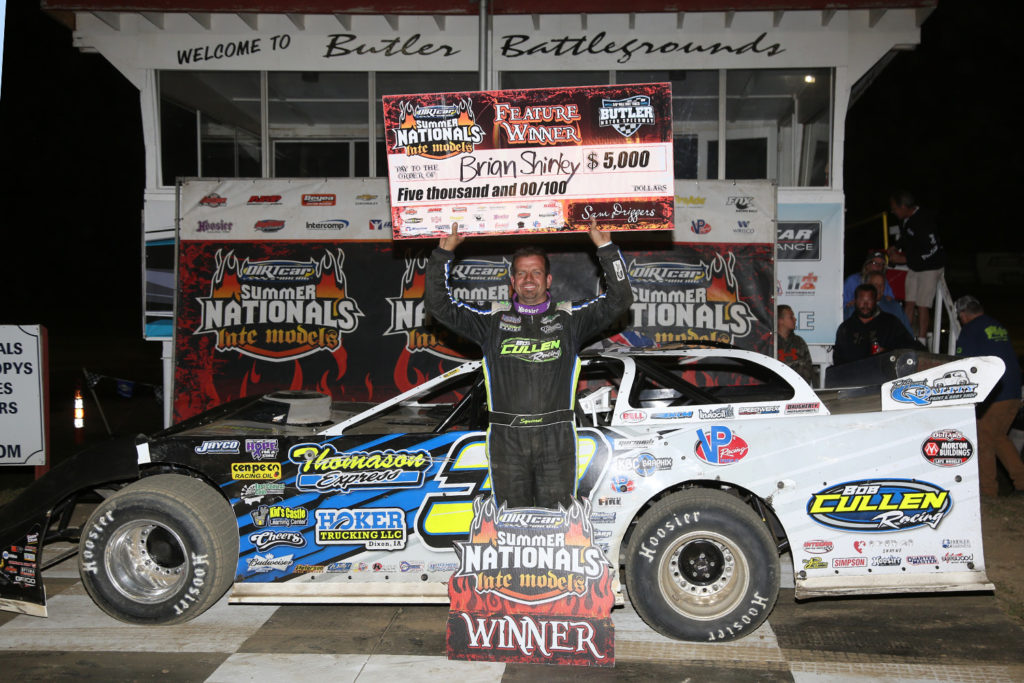 Shirley and the Bob Cullen Racing team put in a great deal of work since their troubles last week, and it all came together Wednesday night in another flag-to-flag victory.
"This is the car we wrecked at Lincoln," Shirley said of the car he drove into Butler Victory Lane. "After how we did last night, I was like 'we've got to figure out what to do to get this car back together.' So, me and [crew guy] busted our ass and drove all the way here last night, woke up at eight this morning and have been working and thrashing on it."
After consulting with a few friends, he and the crew found the source of the problem. One that rewarded them with another $5,000 Feature winner's check.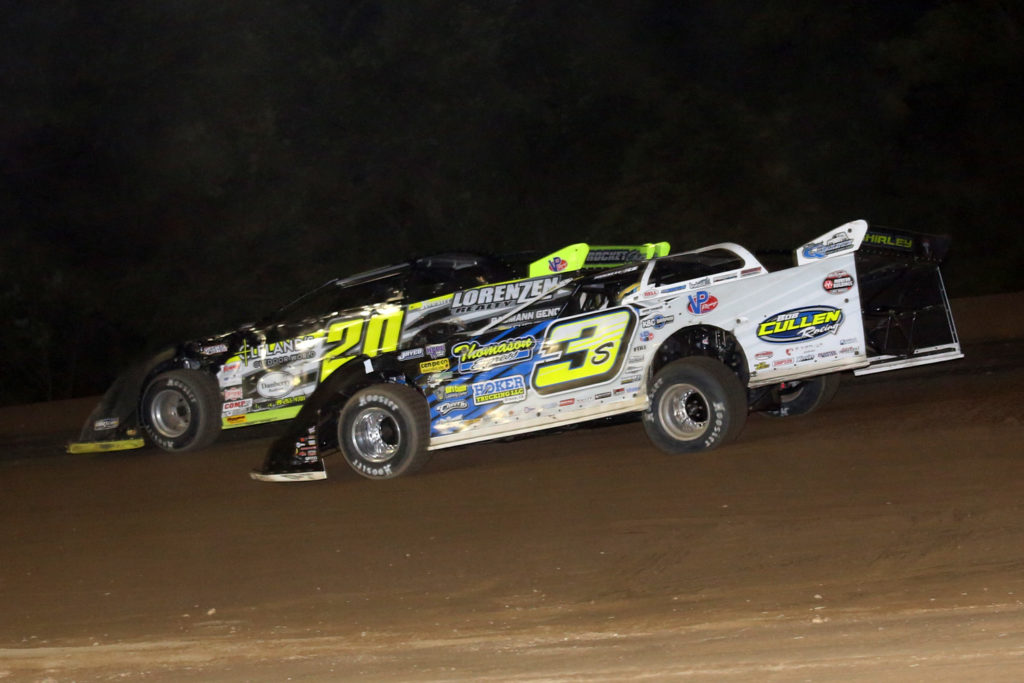 "The shock tower was pushed-in. A couple good buddies – Kyle Bronson, and I talked to Brandon Sheppard on the way here last night – they explained what I needed to do, and then we just got up early enough to get it done," Shirley said.
Right away, the repairs were noticeable on Wednesday night. He set fast time in Qualifying, won his Heat Race and jumped out to a commanding lead at the drop of the green, leading several of the Hell Tour regulars and a couple surprise names up front.
Hubbardston, MI-pilot Garrett Wiles came out to challenge the Summer Nationals big guns and had a very successful venture, winning his Heat Race and running inside the podium for most of the Feature before slipping back to fourth.
Drake Troutman, the 15-year-old DIRTcar Late Model talent from Hyndman, PA, made the follow-up trip to his Summer Nationals debut at Butler a very successful one.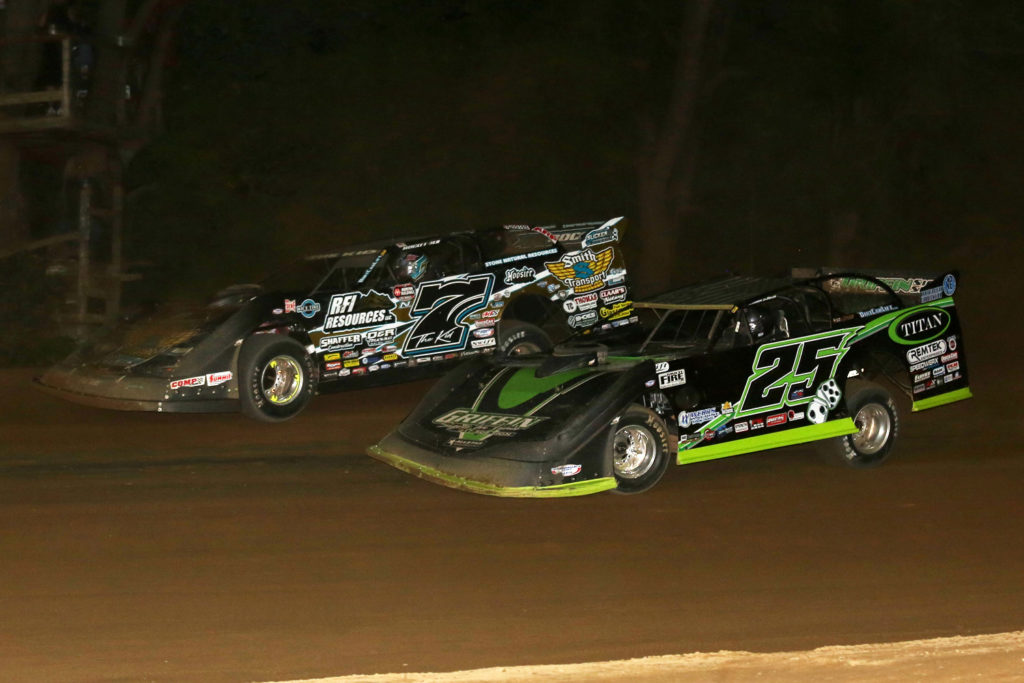 Starting from outside Row 3, Troutman battled with Jason Feger and Rusty Schlenk and out front for several laps before making the pass on Wiles for second on Lap 18. With a fast car underneath him, Troutman maintained the spot all the way back to the checkers for his best career finish with the tour.
But above all others was the three-time and defending tour champion. Going virtually untouched in the Feature, win #7 on the season will increase his points lead over Frank Heckenast Jr. and lead him one step closer to he and his team's fourth tour championship with just three races remaining.
UP NEXT
The DIRTcar Summer Nationals Late Model action continues Thursday night in Round #23 of competition at the Thunderbird Raceway in Muskegon, MI. Catch all the action live on DIRTVision.
ABBREVIATED RESULTS (click for full results)
Feature (30 Laps) 1. 3S-Brian Shirley [1][]; 2. 7-Drake Troutman [6][]; 3. 91-Rusty Schlenk [3][]; 4. 16-Garrett Wiles [2][]; 5. 25-Jason Feger [4][]; 6. 21N-Logan Nickerson [5][]; 7. 99JR-Frank Heckenast Jr [7][]; 8. 27-Eric Spangler [8][]; 9. 19R-Ryan Gustin [15][]; 10. 21B-Rich Bell [10][]; 11. 44-Colten Burdette [11][]; 12. 19X-Cody Bauer [12][]; 13. 52-Brad Harden [14][]; 14. 15G-Jamie Grochowski [18][]; 15. 20T-Troy Hahn [21][]; 16. 4-Travis Stemler [9][]; 17. 5X-Bryant Dickinson [20][]; 18. 4G-Bob Gardner [19][]; 19. 11X-Ryan Lanphierd [16][]; 20. 48-Tim Lance [17][]; 21. 11C-Rachel Carpenter [23][]; 22. 48L-Tim Lance Jr [22][]; 23. O6-Jake Rendel [13][] Hard Charger: 19R-Ryan Gustin[+6]