MAPLE PARK, IL – He hadn't raced his family-owned #B5 Rocket Chassis since May, but it just doesn't seem to matter which car he drives or what track he's at. Brandon Sheppard has been just plain dominant so far this year.
B-Shepp invaded the DIRTcar Summer Nationals Late Model circuit Tuesday night at Sycamore Speedway and put a whooping on the field, winning in his first tour start this season by over six seconds and collecting the 21st Hell Tour victory of his career.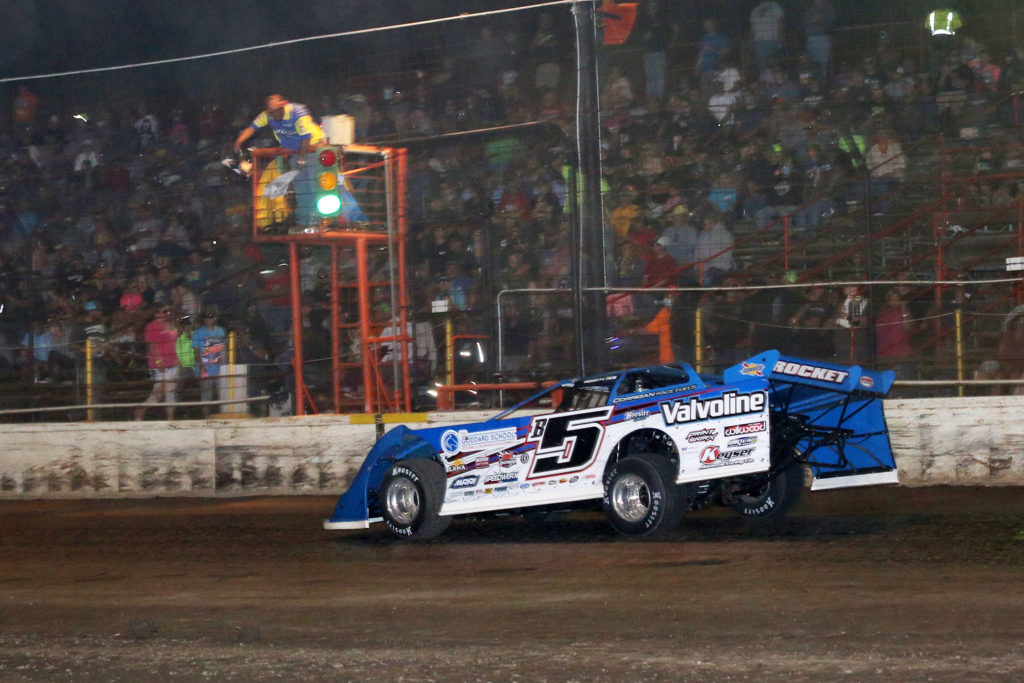 Coming off a long weekend with the World of Outlaws Morton Buildings Late Model Series at Cedar Lake Speedway, Sheppard was looking forward to getting back to work with his #B5 machine this week and had a very limited amount of time to prepare for it.
"I've been away from the shop, I only got one day to work on this thing this week," Sheppard said in Victory Lane. "I've been away from home for five weeks now, and I've got another six days in-a-row to be away from home."
But that just didn't seem to affect him. Sheppard stalked his competition at the drop of the green, waiting for the right moment to pounce. It didn't take long, as he made the move around Frank Heckenast Jr. for second on Lap 3, then overtook the defending champion Brian Shirley for the lead one lap later.
Using all three lanes of the racetrack throughout the race, Sheppard swiftly maneuvered through lapped traffic and actually began pulling away from Shirley in the caution-free race.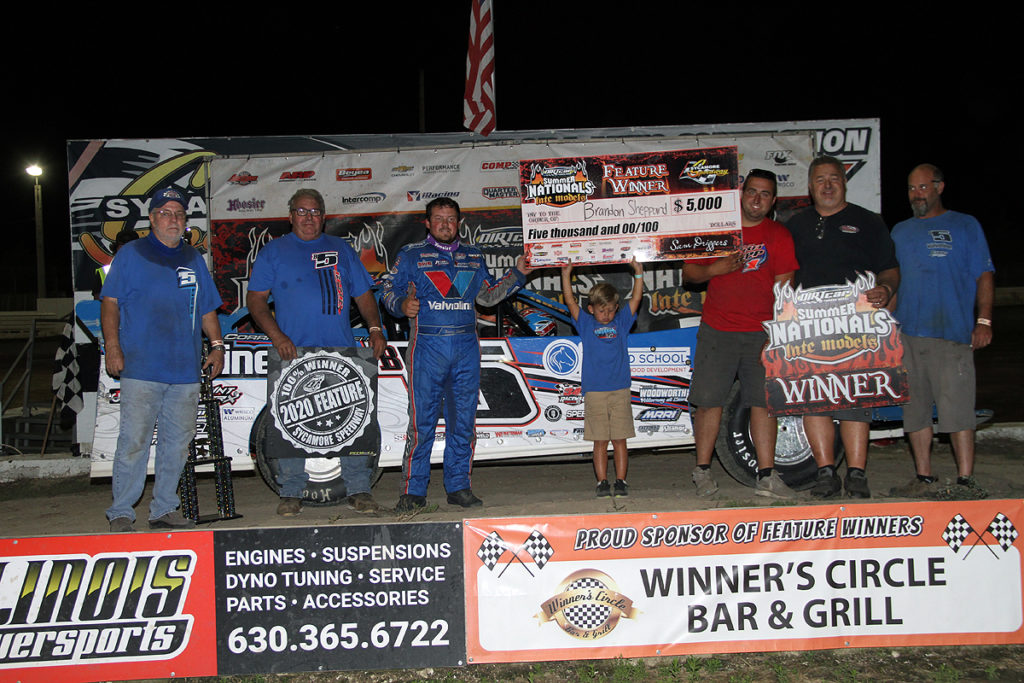 Iowan Jeremiah Hurst did his best in his late-race rally efforts to catch Sheppard, but ultimately came up one spot short. He came on strong in the second half of the race, passing both Heckenast Jr. and Shirley to reach the runner-up spot.
As the laps wound down, it became more and more clear – nobody was going to touch the B5 car Tuesday night. Sheppard crossed the line untouched, collecting $5,000 for the victory.
Shirley capped-off the podium in third, Heckenast Jr. was fourth and Jason Feger rounded out the top-five.
UP NEXT
The DIRTcar Summer Nationals Late Model action continues Wednesday night, Aug. 12 at the Fairbury Speedway in Fairbury, IL, for another 40-lap, $5,000-to-win main event in Round #17 of the 2020 DIRTcar Summer Nationals. Watch every lap live on DIRTVision presented by Drydene.
ABBREVIATED RESULTS (click for full results)
Feature (40 Laps) 1. B5-Brandon Sheppard [3][]; 2. 58-Jeremiah Hurst [4][]; 3. 3S-Brian Shirley [1][]; 4. 99JR-Frank Heckenast Jr [2][]; 5. 25-Jason Feger [7][]; 6. 28-Dennis Erb [6][]; 7. 21B-Rich Bell [5][]; 8. 48-Tim Lance [11][]; 9. 4G-Bob Gardner [9][]; 10. 59-Garrett Alberson [8][]; 11. 5-John Provenzano [12][]; 12. M27-Mike Provenzano [15][]; 13. 1M-Mike Mataragas [22][]; 14. 10J-Jordan Bauer [16][]; 15. 3-Dale Markham [10][]; 16. 15B-Jay Brendle [18][]; 17. 76-Titus Sneed [19][]; 18. 16-Rusty Griffaw [13][]; 19. 91P-Jason Papich [20][]; 20. 89-Mike Spatola [14][]; 21. 48L-Tim Lance Jr [17][]; 22. 8-Herb Reich [21][] Hard Charger: 1M-Mike Mataragas[+9]