LEWISTOWN, IL – Pulling into the Spoon River Speedway Thursday afternoon, Kent Robinson had never turned a single lap around the high-banked 3/8-mile. By the time he pulled out of his parking space eight hours later, a big $5,000 DIRTcar Summer Nationals winner's check was heading out with him.
Robinson brought the fans to their feet with a dramatic ending to his third career Summer Nationals Late Model win – a last-lap pass on defending tour champion Brian Shirley in Turn 2 after chasing him down from his ninth-place starting spot.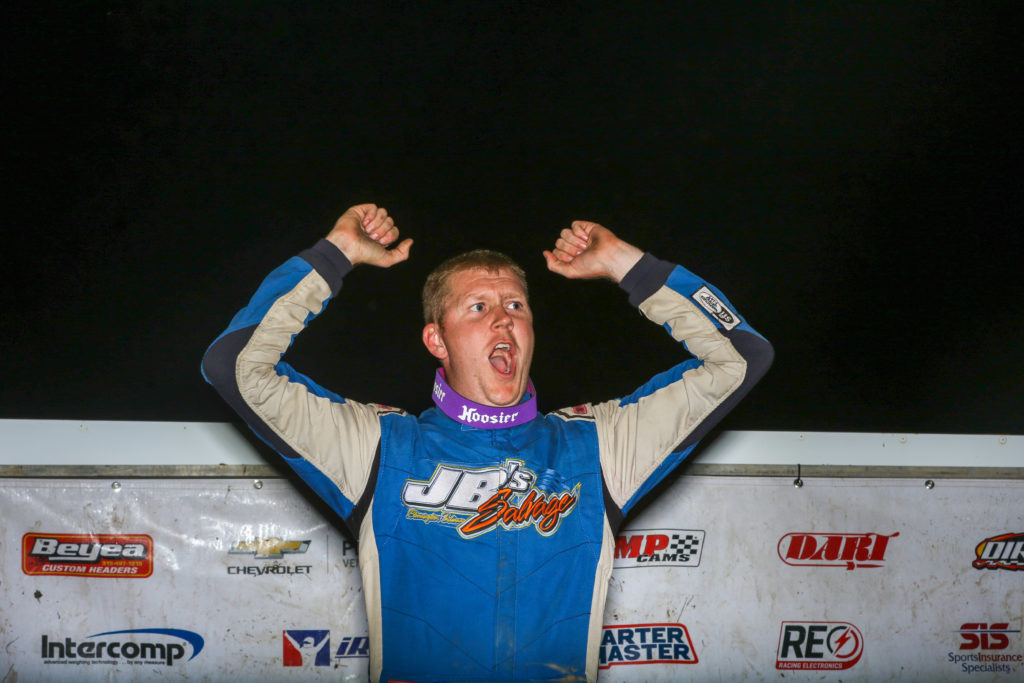 Shirley, of Chatham, IL, had led from the drop of the green with three-time tour champion Bobby Pierce hot on his tail, but once Pierce gave up his podium spot after falling off the pace just shy of halfway, the door opened for Robinson to stake his claim with the leaders.
Tyler Erb and Tyler Carpenter were locked in a battle of their own for the runner-up spot when Robinson got to them, and he wasted no time diving in. Using his preferred bottom lane, K-Rob got a great run to Erb's inside, grabbed the spot down the backstretch and started his pursuit of Shirley.
Lap-by-lap, Robinson reeled in defending race winner Shirley and pulled almost even with him off Turn 4 as they took the white flag. Shirley moved down and drove hard into Turn 1 in an attempt to seal the bottom lane off from Robinson's taking, but he had too much speed. Shirley slipped up and Robinson went by underneath out of Turn 2, making slight contact as he drove by.
Shirley tried to rebound in Turns 3-4 but it was not enough to get around Robinson's #7 MB Customs Race Car. The Bloomington, IN-driver had pulled the rabbit out of his hat and stunned the crowd with excitement.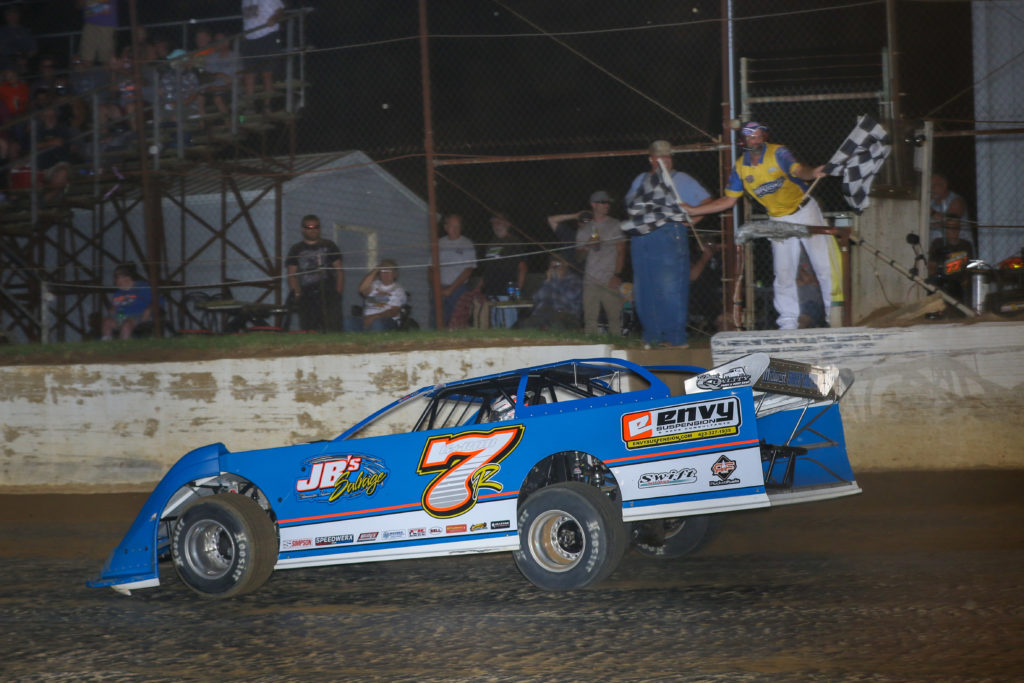 "I didn't want to get into Brian like that," Robinson told Summer Nationals Announcer Ruben Mireles in Victory Lane. "But once I had a door on him, I couldn't lift. He was on my door, and we both would have gotten passed. I'll apologize to him, but I'm pretty happy."
Shirley hung on for second while Summer Nationals rookie Tyler Carpenter scored his best career finish on the Hell Tour in third. Billy Drake came from 12th to finish fourth while Tyler Erb hung on to complete the top-five. Pierce rebounded from his pit visit earlier in the race to come back and finish 10th.
UP NEXT
The DIRTcar Summer Nationals action continues Friday night with a $10,000-to-win show at Farmer City Raceway in Farmer City, IL. Catch all the action LIVE on DIRTVision with your Fast Pass subscription!
ABBREVIATED RESULTS (click for full results)
Feature (40 Laps) 1. 7R-Kent Robinson [9]; 2. 3S-Brian Shirley [2]; 3. 28-Tyler Carpenter [5]; 4. 75-Billy Drake [12]; 5. 1T-Tyler Erb [3]; 6. 99JR-Frank Heckenast [19]; 7. 9-Devin Moran [16]; 8. 1ST-Johnny Scott [17]; 9. 10S-Taylor Scheffler [18]; 10. 32-Bobby Pierce [1]; 11. O-Rick Eckert [13]; 12. 33M-Tim Manville [14]; 13. 4G-Bob Gardner [22]; 14. 15-Kolby Vandenbergh [11]; 15. 32S-Chris Simpson [10]; 16. 25-Jason Feger [8]; 17. 48-Tim Lance [20]; 18. 40B-Kyle Bronson [4]; 19. 18-Shannon Babb [6]; 20. 2S-Stormy Scott [7]; 21. 25W-Allen Weisser [15]; 22. 14B-Britan Godsey [23]; 23. 24-Ryan Unzicker [21] Hard Charger: 99JR-Frank Heckenast[+13]