Wallace brothers attend special presentation of throwback paint schemes
Like the days of Midwestern short track domination by the late Russ Wallace, Bobby Pierce put on a powerful display of dirt track domination of his own Friday night at Tri-City Speedway.
Pierce scored his tenth DIRTcar Summer Nationals Feature win in the fifth annual Russ Wallace Memorial – an event that honors the legendary Wallace racing family of father Russell Wallace Sr, 2012 DIRTcar Summit Racing Equipment Modified Nationals champion Kenny Wallace, former NASCAR Xfinity Series regular Mike Wallace and 1989 NASCAR Cup Series champion Rusty Wallace.
All three sons were in attendance and took part in the unveiling of two special tribute paint schemes, paying homage to Russ' asphalt and dirt cars that saw Victory Lane numerous times in the 1960s-70s. Both tribute Late Models were piloted by brothers Gordy and Trevor Gundaker in the 40-lap Feature.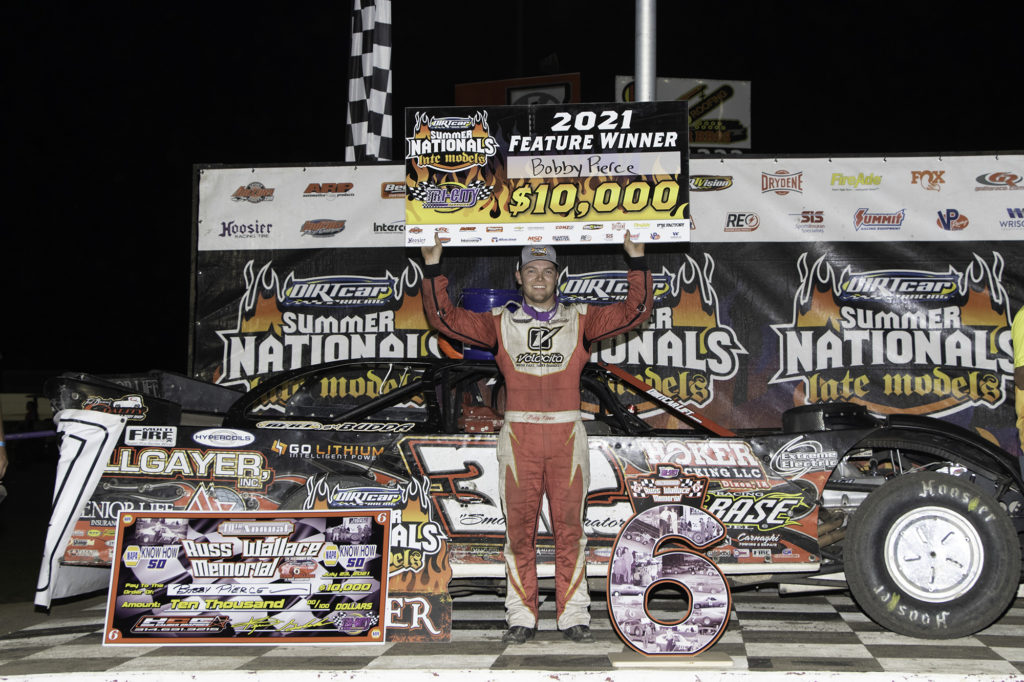 Leading the final 29 laps, Pierce put on yet another clinic, winning by over 3.5 seconds in the caution-free event that took just over 11 minutes to complete.
"That was like old Tri-City right there, to a T," Pierce, of Oakwood, IL, said in Victory Lane. "When I grew up racing here, that's just how it was, and it fits my driving style to a T."
However, the night did not begin exactly how the three-time champion would have liked.
"We had so much stuff to do from qualifying to Heat Race, with the issues we had. Luckily, we got it all turned around. What could've been a bad night was the best night it could've been," Pierce said."
But when the green flag dropped in the Feature, it was almost as if he hadn't missed a beat all night, solidly holding his ground inside the top-five in the opening laps as he battled with Tanner English, Ryan Unzicker and Shannon Babb for second.
A racy, multi-groove track surface allowed Pierce to pass all three of them right on the bottom by Lap 9, then switch up to the top to hunt down then-leader, Mitch McGrath.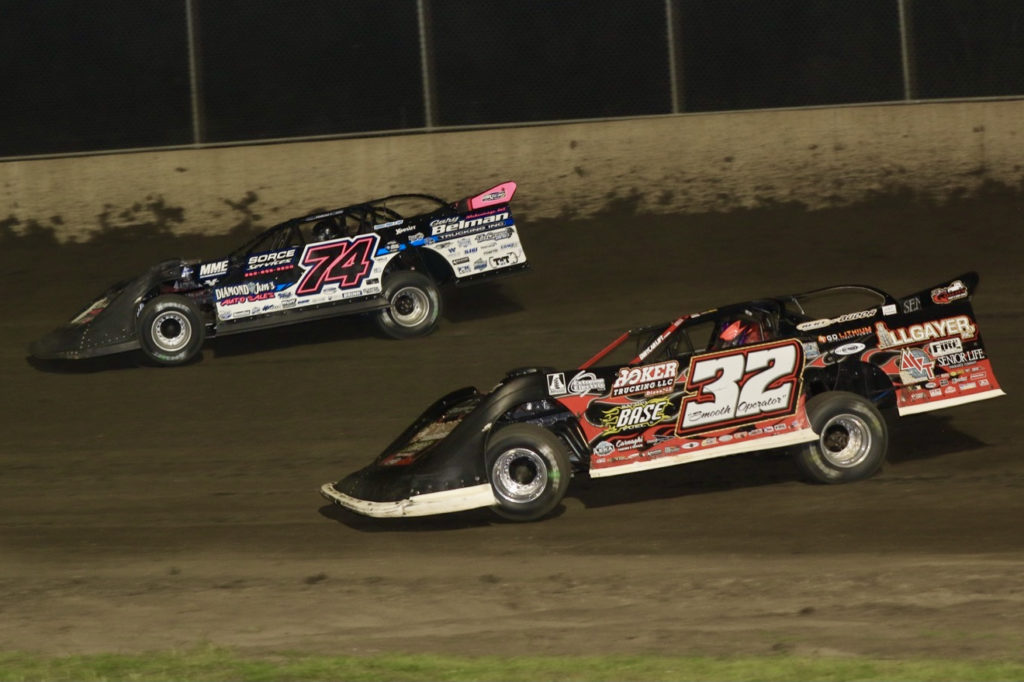 McGrath, of Waukesha, WI, looked to be having his best night of the season after a Heat Race win set him on the front row of the Feature. He led the first 11 circuits before Pierce caught him in traffic and threw a big slide job on him in Turns 3-4 to swipe the lead on Lap 12.
Pierce soon after dropped the hammer and checked out, leaving the rest of the top-five in the dust and lapping up to fifth place by the time the checkers were thrown to collect the $10,000 check.
Unzicker held onto second to claim a season-best finish, while Ashton Winger won the battle with English in the closing laps to come home third. English bagged his 14th top-five of the season in fourth while Babb rounded out the top-five.
UP NEXT
The Summer Nationals Late Models are back in action Saturday night, July 24, at Clarksville Speedway to continue the Week #6 competition with another $10,000 on the line for the winner. Catch all the action live on DIRTVision presented by Drydene.
ABBREVIATED RESULTS (view all results)
Feature (40 Laps) 1. 32-Bobby Pierce[5]; 2. 24-Ryan Unzicker[1]; 3. 12-Ashton Winger[6]; 4. 81E-Tanner English[4]; 5. 18-Shannon Babb[3]; 6. 54-Dane Dacus[9]; 7. 74-Mitch McGrath[2]; 8. 93-Mason Oberkramer[7]; 9. 28-Dennis Erb Jr[8]; 10. 29-Darrell Lanigan[11]; 11. 6-Gordy Gundaker[12]; 12. 82-Billy Laycock[17]; 13. 45-Kyle Hammer[18]; 14. 7-Trevor Gundaker[23]; 15. 16-Rusty Griffaw[20]; 16. 14G-Joe Godsey[10]; 17. 14R-Jeff Roth[19]; 18. 36-Logan Martin[15]; 19. 248-Brandon Lance[22]; 20. 26M-Brent McKinnon[13]; 21. 2-Charlie Cole[16]; 22. 2M-Allen Murray[14]; 23. (DNS) 33-Daryn Klein