KANKAKEE, IL – The Kankakee County Speedway owns a very special place in Frank Heckenast Jr's trophy cabinet. It was the site of his very first DIRTcar Summer Nationals Late Model victory back in 2015.
Five years later, and The Frankfort Flyer has done it again. This time, in dominating fashion.
Heckenast put a whooping on the Summer Nationals field Tuesday night in the tour's 32nd visit to Kankakee, leading every lap en route to his fourth career Hell Tour victory in front of a great deal of his family, friends and sponsors. Racing just over 30 minutes away from his home in Frankfort, IL, Heckenast showed lots of appreciation for those that came out to see him in Victory Lane.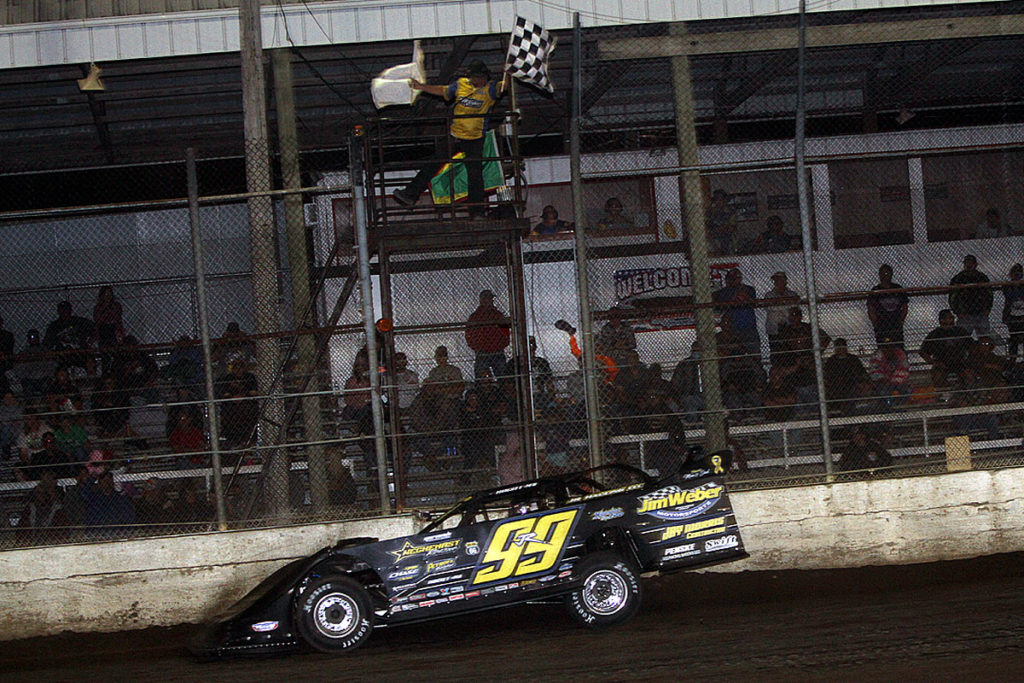 "I love this place. They changed the track a bunch. This is our second time here with it being that different. I'm just so happy everyone's here. We've got a hundred people in our pit area," Heckenast told Summer Nationals announcer Ruben Mireles.
Put simply, this was one of the most dominating victories seen all year on the tour, if not the biggest. Heckenast lapped up to sixth place in the running order and crossed the finish line 6.85 seconds ahead of runner-up Jason Feger. He also set fast time in Qualifying and won his Heat Race, setting him up for a pole position spot on the Feature starting grid.
At the drop of the green, Heckenast took off and never looked back once throughout the 40-lap event. With only one caution flag flying early on in the Feature, he was able to pull away early, lapped traffic never once slowing his pace.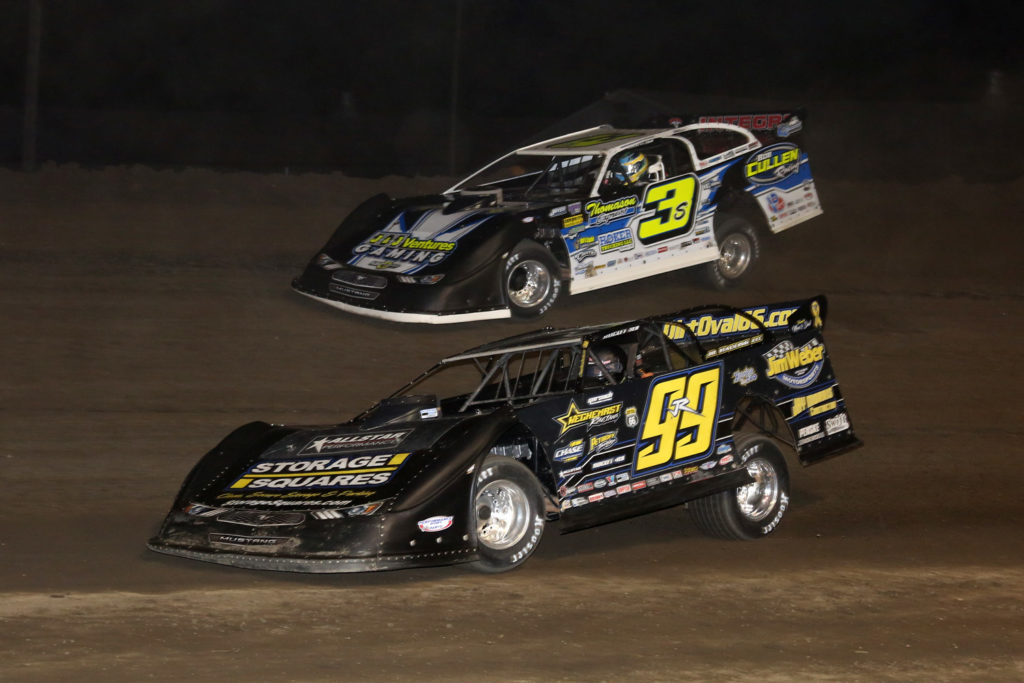 In his own words, his first win since July 23 at Springfield Raceway came with a whole new approach to driving.
"I race other people how I how I want to be raced, and I never get the same respect. So, from now on, I just drive the [crap] out of this thing, drive them like they drive me. What a difference," Heckenast said.
Among the other notable drivers was former Modified pilot Ryan Gustin, making his first Summer Nationals start since the first week of the tour back in July. The Marshalltown, IA-native started seventh and picked his competition off one by one as the laps clicked off, resulting in a solid third place – his best career finish with the tour.
The rough going for current points leader Brian Shirley continued Tuesday night after Sunday's DNF at Lincoln, as the Bob Cullen Racing #3S started up front and was contending for a podium spot early, but soon faded back to sixth – the final car on the lead lap, almost a whole lap behind Heckenast. The team will now head to Michigan, holding onto a big advantage in points as they look to secure their fourth Summer Nationals championship.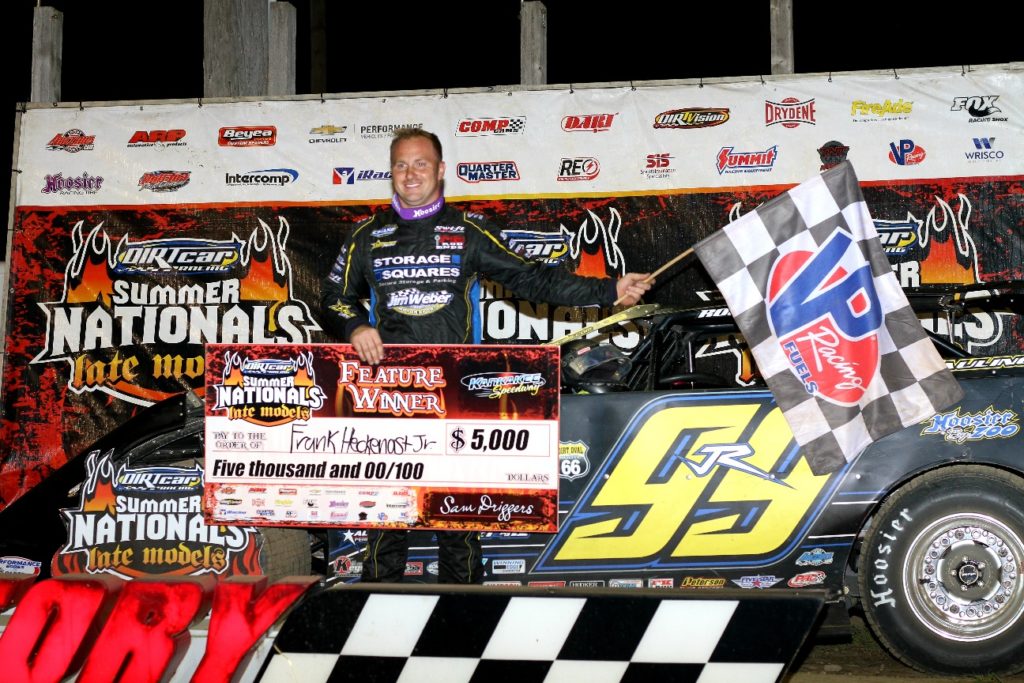 UP NEXT
The DIRTcar Summer Nationals Late Model action continues Wednesday night, Aug. 19, with the first of four races in the state of Michigan – starting with the tour's debut at Butler Motor Speedway in Quincy. Catch all the action LIVE on DIRTVision presented by Drydene.
ABBREVIATED RESULTS (click for full results)
Feature (40 Laps) 1. 99JR-Frank Heckenast Jr [1][]; 2. 25-Jason Feger [3][]; 3. 19R-Ryan Gustin [7][]; 4. 91-Rusty Schlenk [8][]; 5. 4-Travis Stemler [10][]; 6. 3S-Brian Shirley [2][]; 7. 19X-Cody Bauer [5][]; 8. 18L-Jeffrey Ledford [9][]; 9. 5-Mike Provenzano [13][]; 10. 48-Tim Lance [14][]; 11. 77M-Jay Morris [12][]; 12. B12-Kevin Weaver [6][]; 13. 14-Glen Thompson [19][]; 14. 89-Mike Spatola [4][]; 15. 12-Jeff Curl [15][]; 16. 7-Drake Troutman [11][]; 17. 1W-Donny Walden [16][]; 18. 48L-Tim Lance Jr [17][]; 19. 5X-Bryant Dickinson [18][]; 20. 4G-Bob Gardner [20][] Hard Charger: 14-Glen Thompson[+6]