CLARKSVILLE, TN – There were few drivers in the DIRTcar Late Model field Sunday night that have had more success at Clarksville Speedway than Dennis Erb Jr., and he showed exactly why with a flag-to-flag victory over the 28-car field for the 23rd time in his Summer Nationals career.
From the pole, Erb shot to the lead at the drop of the green and immediately went on the defense, holding off challenges from Frank Heckenast Jr. in the early going. Heckenast gave him a strong run to the outside and almost got around the #28, but Erb found some more speed on the bottom and closed the window of opportunity before the first of many caution flags flew on Lap 12.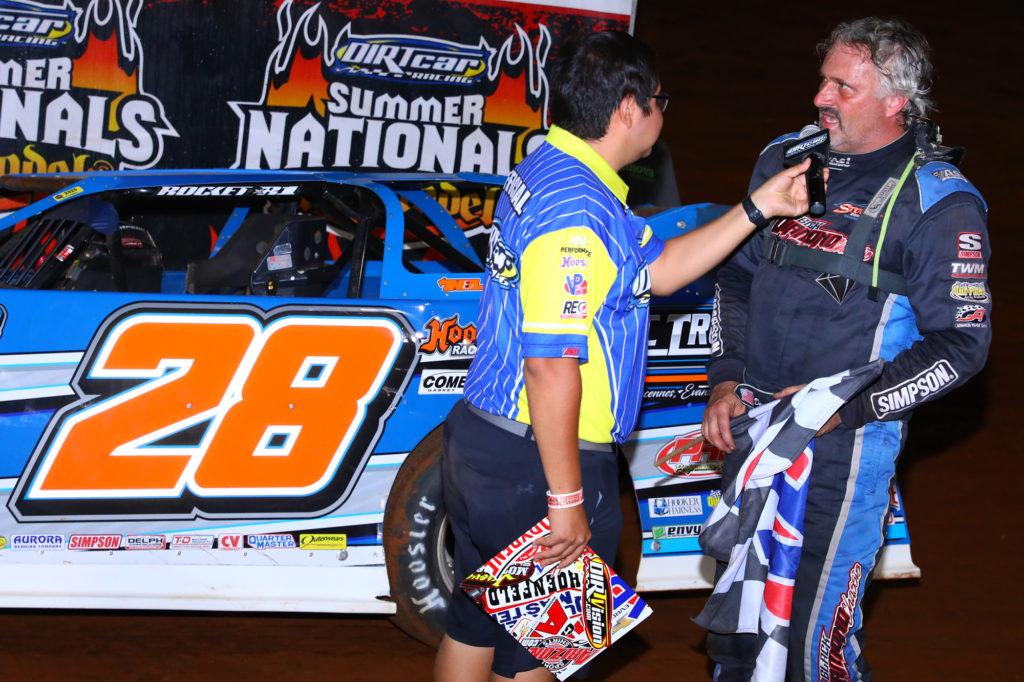 Heckenast and his #99jr Rocket Chassis weren't done, however. He hounded Erb for the lead over the next 13 laps until Billy Moyer got around him on a restart. Heckenast soon faded back to fourth while points leader Brian Shirley took advantage of the open door and made his bid for the front.
Shirley brought his A-game for the 40-lap contest in an effort to defend his victory from the night prior and made a great effort, putting a swift move on both Moyer and Heckenast in the same corner to take second as they crossed the line to complete Lap 30.
Back out front, it was Erb's race to lose. With Shirley now less than one second back with less than 10 laps to go, Erb dropped the hammer. He found a sixth gear down on the bottom and slowly began to pull away from Shirley again, leading the field back around to the checkers and a $5,000 payday.
"It was pretty much typical Clarksville here tonight," Erb said in Victory Lane. "I just kept it smooth around the bottom and was able to keep it out front."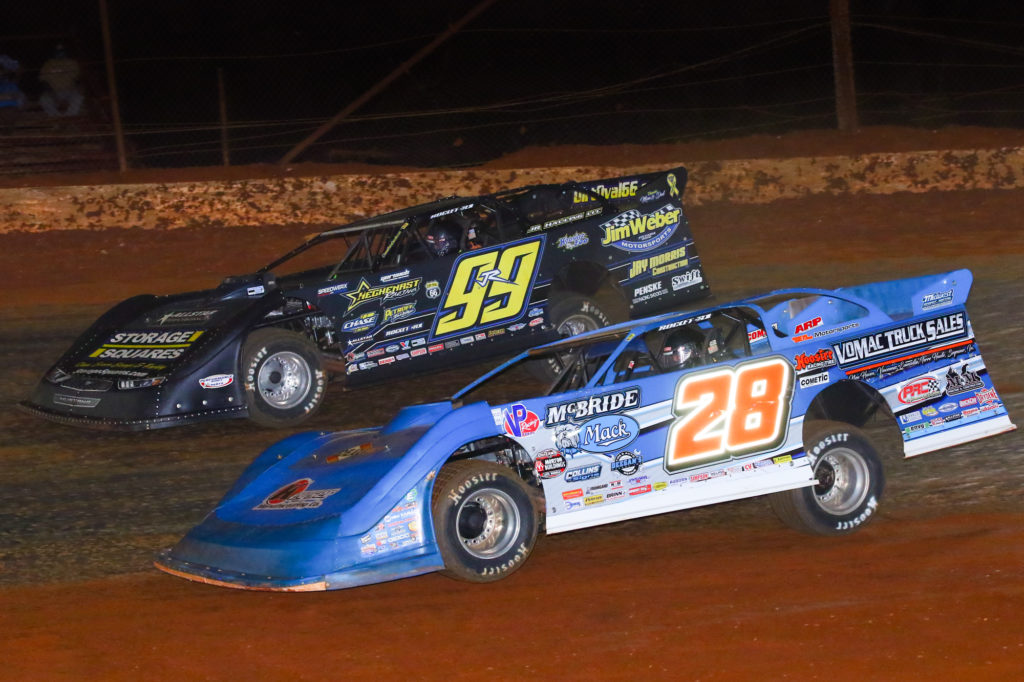 Erb rarely shows much emotion, even after beating competition like he did on Sunday, but the three-time Tuckasee Toilet Bowl Classic winner is one veteran that cherishes every victory at Clarksville no matter how he got it.
"It feels good. We're getting this Rocket Chassis figured out. We made a few changes tonight that I think are really going to help on some smaller tracks, and we're looking forward to keeping it going," Erb said.
UP NEXT
The DIRTcar Summer Nationals Late Models are off on Monday and Tuesday before a return to action in Round #16 Wednesday night at LaSalle Speedway in LaSalle, IL. Catch all the action live on DIRTVision with a Fast Pass subscription!
ABBREVIATED RESULTS (click for full results)
Feature (40 Laps) 1. 28-Dennis Erb Jr [1][]; 2. 3S-Brian Shirley [6][]; 3. 99JR-Frank Heckenast Jr [2][]; 4. 21-Billy Moyer [3][]; 5. 25-Jason Feger [7][]; 6. 212-Josh Putnam [5][]; 7. 18-David Seibers [11][]; 8. 4G-Bob Gardner [10][]; 9. J27-Jadon Frame [4][]; 10. 127-Robert Ardry [15][]; 11. 15-Richard Frost [16][]; 12. 16-Rusty Griffaw [13][]; 13. 2-Hunter Blackwell [14][]; 14. 4GR-Bobby Richey Jr [8][]; 15. 1A-Levi Ashby [21][]; 16. 61-Caleb Ashby [12][]; 17. 11-Adam Elliott [18][]; 18. 19-Gavin Schmidt [17][]; 19. 48L-Tim Lance Jr [22][]; 20. 10J-Jordan Bauer [9][]; 21. 54JR-Larry Barber Jr [20][]; 22. 48-Tim Lance [19] Hard Charger: 1A-Levi Ashby[+6]