Nicely leads opening laps, nearly passes Hoffman in home stretch
Thirteen starts. Thirteen wins. But this one was Nick Hoffman's closest win yet.
After redrawing third-best before the debut Feature for the DIRTcar Summit Racing Equipment Modified Nationals at Circle City Raceway Wednesday night, Hoffman had his consecutive laps-led streak broken at 290 when polesitter Tyler Nicely led the opening four circuits to a three-car battle for the lead around the brand-new quarter-mile oval.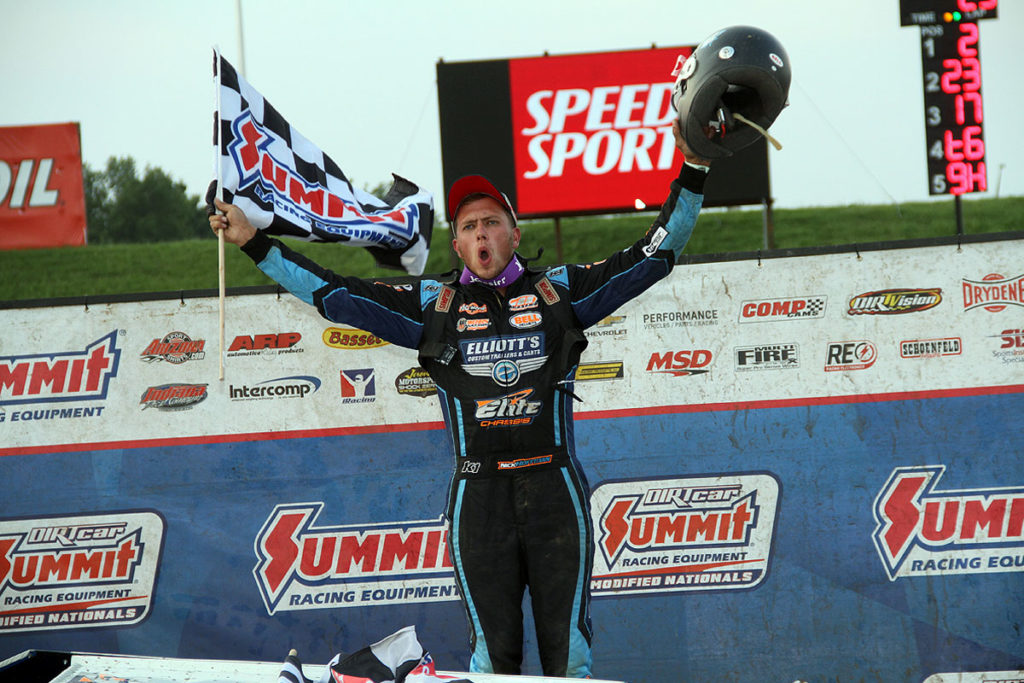 "I was really worried about that redraw," Hoffman said in Victory Lane. "Obviously, I had to pass somebody tonight, so Facebook should be pumped up about that."
Outside polesitter Dylan Woodling had a stellar run going on the outside and swiped the lead away on Lap 5. But soon after reaching the backstretch, his #3w appeared to lose power instantly as he slowed into Turns 3-4, giving up the lead to Hoffman still with 20 laps left.
Hoffman took off on the restart and opened up a solid gap over Nicely as he approached lapped traffic. He maintained this advantage until the closing laps, where the traffic got two and three-deep in front of him. Hoffman struggled to cleanly maneuver through them at first, and Nicely was able to close the gap completely with under five laps remaining.
"[Crew member Shawn] showed me I had a pretty decent size lead, and then it went to nothing. I could see [Nicely] down there, and I just had to use that one lapped car up off of Turn 4… I gotta go, y'know? They're having their own race, you can't blame them for that. It's just, at some point, you gotta go, and I got a little aggressive with him and tore it up a bit," Hoffman said.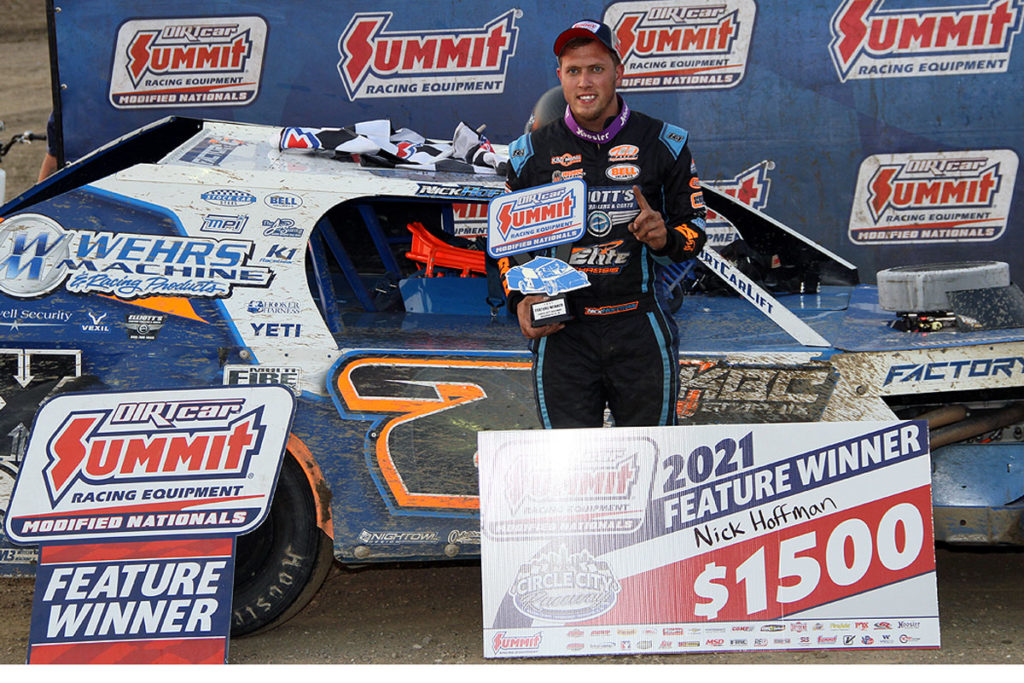 Hoffman did make contact with one of the slower cars to get by, but he was able to maintain the lead. A final restart with one lap left restacked the field and gave Nicely one final chance at the three-time champ, but Hoffman pulled away at the drop of the green to his 51st career Summit Modified win – one that also tied his own record for most in a single season.
Nicely finished second while Dillon Nusbaum crossed in third. Tommy Sheppard Jr. earned the Hard Charger honors, coming from 20th to finish fourth after breaking a transmission before his Heat Race.
UP NEXT
The Summit Modifieds are back in action Thursday night, July 15, at Thunderbird Raceway in Muskegon, MI, for another $1,500-to-win showdown in the first of six races in the state of Michigan this season. Catch all the action live on DIRTVision presented by Drydene.
ABBREVIATED RESULTS (view full results)
Feature (25 Laps) 1. 2-Nick Hoffman[3]; 2. 23C-Tyler Nicely[1]; 3. 17N-Dillon Nusbaum[5]; 4. T6-Tommy Sheppard Jr[20]; 5. 9H-John Demoss[6]; 6. 5CS-Curt Spalding[4]; 7. 2ND-Jake Leitzman[11]; 8. 16C-John Clippinger[10]; 9. 94-Matthew Cooley[8]; 10. 15J-Jimmy Hayden[13]; 11. JD3-Jack Dossey[7]; 12. 1H-Ben Harmon[12]; 13. 22W-Cody Wright[14]; 14. 8C-Corey Bevard[19]; 15. 38-Jeff Herbert[18]; 16. 66W-Jack Waldfogel[16]; 17. 44-Andy Sherley[15]; 18. 3W-Dylan Woodling[2]; 19. 25-Josh Lolmaugh[9]; 20. (DNS) 77T-John Turner