He took a night off, but never missed a beat. Nick Hoffman has won his ninth DIRTcar Summit Racing Equipment Modified Nationals Feature of 2021.
Lincoln Speedway played host to Hoffman's return to the tour Sunday night after racing elsewhere on Saturday, but it was as though he never left. The three-time and defending Summit Modified champ once again led every lap of the Feature and pocketed another $1,500 check.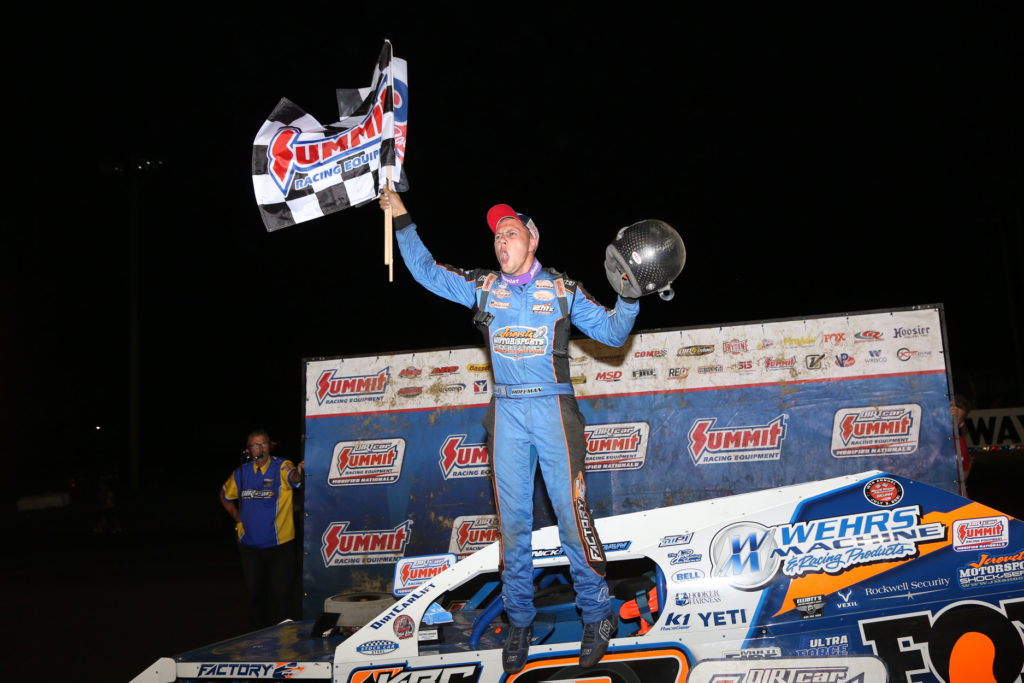 "I just got out to a decent lead, and I can watch that big DIRTVision board off of Turn 2 and see how big of a lead I had," Hoffman said. "That helps a bunch."
He and his #2 Elite Chassis again went unchallenged for the lead, building up over a five-second lead in traffic before a yellow with 10-to-go erased it. But Hoffman held strong on the restart, defending against his uncle, Dean Hoffman, and six-time Summit Modified champion Mike Harrison.
Harrison got by Dean and Kenny Wallace before the final restart with five laps left, which he was able to ride to the finish for his best Feature finish with the tour so far this year.
Try as he did, however, Harrison was unable to catch Hoffman before the checkered. In Victory Lane, Hoffman admitted he may have been able to get the car even better than he had it.
"I felt like I could've made another adjustment and been even better, so I'll just write that in the notebook for next time," he said.
UP NEXT
The Summit Modifieds are off on Monday, but will return to action on Tuesday night, July 6, for their debut at the half-mile Knox County Fair Raceway. Catch all the action live on DIRTVision presented by Drydene.
ABBREVIATED RESULTS (view full results)
Feature (25 Laps) 1. 2-Nick Hoffman[1]; 2. 24H-Mike Harrison[4]; 3. 1D-Dean Hoffman[2]; 4. 45-Kyle Hammer[7]; 5. 35-Brandon Roberts[5]; 6. 36-Kenny Wallace[3]; 7. 99-Hunt Gossum[14]; 8. 25W-Allen Weisser[10]; 9. 7-Drake Troutman[8]; 10. T6-Tommy Sheppard Jr[6]; 11. 14C-Rick Conoyer[9]; 12. 14-Brian Lynn[21]; 13. 19C-Carter Sinkhorn[11]; 14. 19-Travis Thrasher[22]; 15. 64- Dawson Cook[13]; 16. 11-Zach Rhodes[15]; 17. 05-Dave Wietholder[18]; 18. 43-Jared Thomas[17]; 19. 77-Ray Bollinger[20]; 20. 72A-Austin Lynn[12]; 21. 96M-Mike McKinney[16]; 22. 59R-Jacob Rexing[19]