The young gasser from Mayfield, KY, has done it again. Sixteen-year-old Hunt Gossum parked it in I-96 Speedway Victory Lane Thursday night after a dominating performance in the 25-lap Feature.
Using the low side of the fast 3/8-mile, Gossum seemed as though he was on rails, rapidly pulling away from his competition en route to his second DIRTcar Summit Racing Equipment Modified Nationals Feature win this season.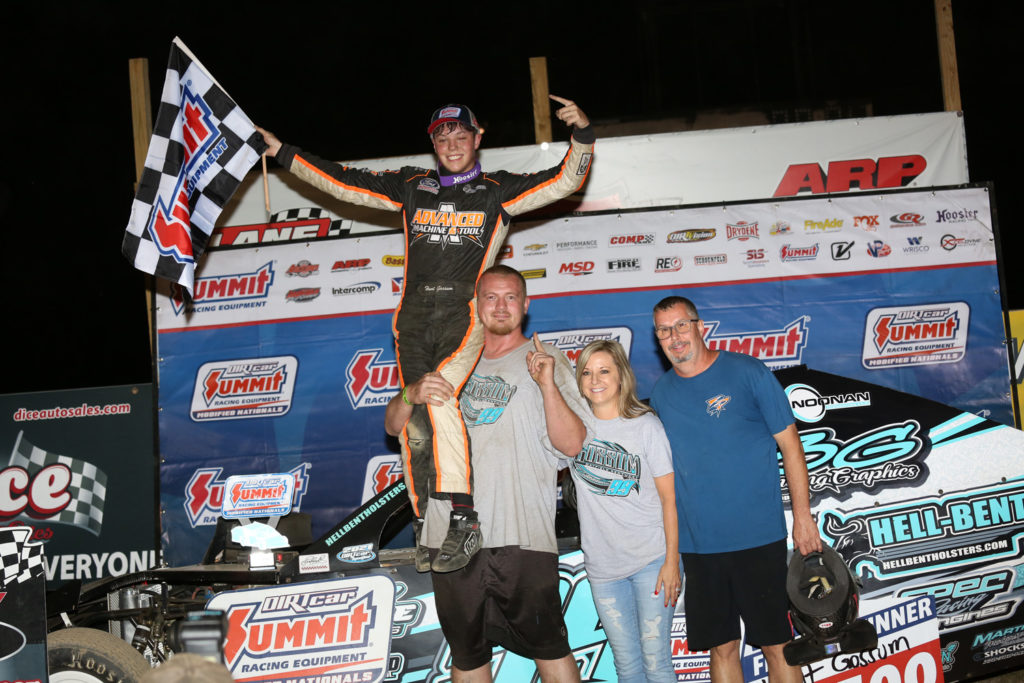 "After the Late Model race, I knew they were all up top," Gossum said. "I thought [the Modifieds] were all gonna be up top, so I went down low in Turn 1 on the start and there was a lot of grip down there."
Jeffery Erickson took the lead in the opening laps as Gossum mounted his charge from behind. By Lap 3, he had taken second from his fifth-place starting spot and made a bee line for the leader.
With Erickson riding the low-middle groove, Gossum was able to hug the ultra-bottom lane and pick up the plentiful speed to make the pass on Lap 6.
From that point, there was no stopping the Elite Chassis #99. Each lap, he padded his lead a little more, even with sections of slower traffic in his path. Even a few rapid-fire cautions in the final laps could not shake his concentration as he cruised to the $1,500 payday.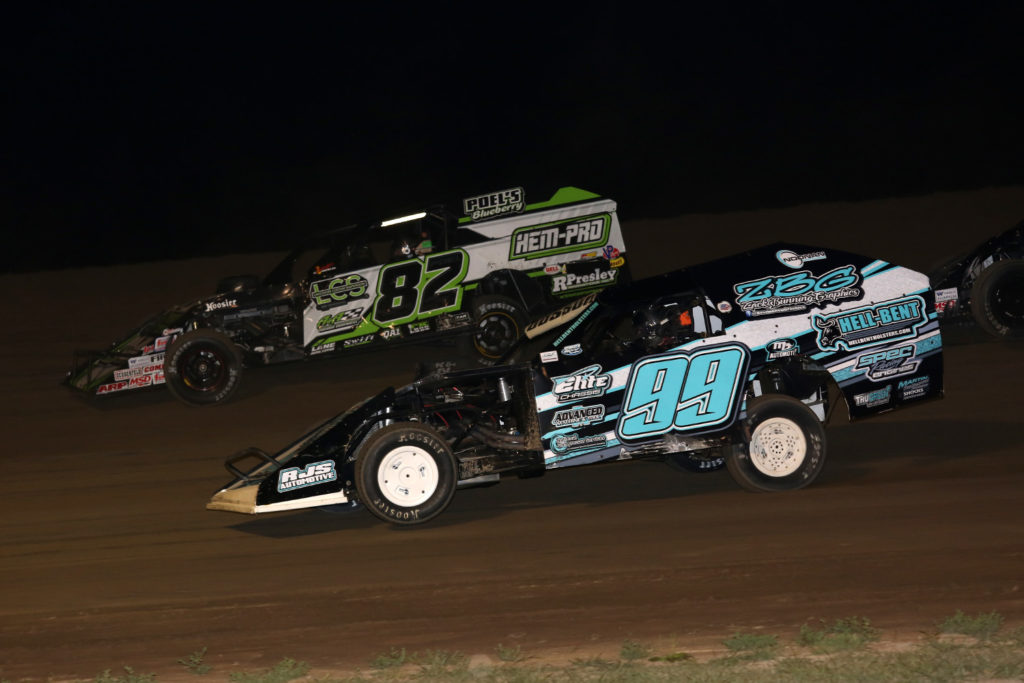 "Stick guy right here – he gave me a big enough lead, so I figured I'd just stay on the bottom and ride around until the checkered flag," Gossum said.
UP NEXT
The Summit Modifieds return to the unique Tri-City Motor Speedway on Friday, Aug. 20, for the next-to-last race of Champions Week and the 2021 campaign. Catch all the action live on DIRTVision presented by Drydene.
ABBREVIATED RESULTS (view full results)
Feature (25 Laps) 1. 99-Hunt Gossum[5]; 2. 1E-Jeffery Erickson[1]; 3. K19-Will Krup[4]; 4. 242-Brandon Bollinger[9]; 5. 36-Kenny Wallace[7]; 6. 65-Todd Sherman[11]; 7. 5CS-Curt Spalding[6]; 8. 80-Rich Dawson[8]; 9. 117-Kevin Reeve[14]; 10. 19B-Chad Bauer[17]; 11. 8C-Corey Bevard[13]; 12. 3W-Dylan Woodling[2]; 13. 9-Garrett Rons[19]; 14. 81-Rick Swartout[20]; 15. 29- Steve Shellenberger[22]; 16. 96-Richard Swan[21]; 17. 25-Josh Lolmaugh[18]; 18. 82-Jacob Poel[3]; 19. 42-Bob Baldwin[12]; 20. 9H-John Demoss[10]; 21. 23-Luke Hubbell[15]; 22. 12M-John McClure[16]