Discover what it takes to survive 'The Hell Tour' with exclusive access to Pierce's team
CHAPTER I: The Journey Into The Unknown
The road turned from an average two-lane asphalt strip to a narrower gravel route bordered by fields of crops. Google maps indicated a few yards down this path is the temple of dirt Late Model icons. Legends to some.
Isolated by miles of Illinois farmland surrounding it, the homestead rose above the crops as I approached. It's more than 6,000 square feet but the shop's rustic façade honestly wasn't what I envisioned for the house of a Hall of Famer and his three-time (2015-2017) DIRTcar Summer Nationals championship-winning son.
Through the front door you're greeted by a consumer parts store, the size of a dive bar, filled with miscellaneous Late Model and Modified parts and a noisy parrot. However, the stylish hats and shirts plastered with a blocky number 32 and the name Bobby Pierce by the entrance immediately grab your attention. My wandering eyes and lost expression probably gave away to the two parts store workers I wasn't a regular. And I wasn't there to buy parts.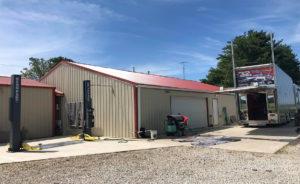 My trip to Oakwood, IL – about two hours east from Springfield and 90 minutes west of Indianapolis (or as some may say, "in the middle of nowhere Illinois") – was for an assignment I'd long toyed with. I'm there to join Pierce's team as a "crew member" for the first week of the DIRTcar Summer Nationals – also known as Hell Tour – a 30-race series over seven straight weeks from June to August. Having worked on a race car for more than 10 years – albeit a Mod Lite – I was ready to jump in with whatever they wanted me to do, no matter how big or mediocre the task.
The purpose of doing so was to do this story and share a behind-the-scenes look at what it's like to run the Summer Nationals and what it's like to work on a high-profile team.
I thought at least a week would suffice to get a good idea of what it's like to run the series and be a crew member during it. Although, every time I told someone I was working with the team for the week the response was always, "The week!?" My confidence of thinking I knew what I was getting myself into died a little with every reaction.
Even worse, that confidence was on the verge of death the day before the first race.
I flew in the two days before the first race with the intention of spending Monday at Pierce's shop to get a sense of how they prepared for the week. I picked up my rental car, booked for the week, and upon getting settled in Illinois I reached out to Pierce to schedule a good time to meet him at the shop.
"… I can't promise I'll be at the first couple [Hell Tour] races since my car got wrecked last night (at Eldora Speedway during the Dream) gonna take a while to fix it all back up."
"And my knuckle is broke I think from a rock."
Those were the texts I got… Plan, meet grave.
Holding on to an ounce of hope, I still scheduled a trip to the shop in the morning to gauge the situation before allowing anxiety to meddle about while scrambling for a backup plan.
I asked the two parts store workers where I could find Bobby. "Not here. I'm not sure he's coming in today," one replied. Great start. Probably upon seeing my dejected expression, she picked up the phone and called someone for answers. "Oh, he's here. Go through those doors and go all the way back," she said.
Through the double doors is not only a tour of Pierce Platinum Race Cars but of Pierce's career too.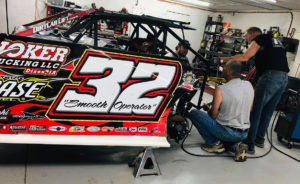 A cold spacious metal room first emerged, three times the size of the parts store. Several templates to build fenders hang on the wall. A large metal table sits off to the side by a metal brake and a couple of barrels filled with pieces of scrap metal. The walls are decorated with large checks commemorating a good number of Bobby Pierce's Super Late Model victories. Before exiting the space, it's hard to not notice a large banner showcasing Pierce's World 100 win at Eldora Speedway in 2016 and NASCAR Truck Series run at the "Big E" in 2017.
The next section of the building housed a brand new Pierce Platinum Chassis sitting patiently for its new owner to pick up with two of Pierce's previous red and white winning cars watching it from a distance – history frozen in time.
Up ahead was a door of mystery. Beyond it was either a plan in motion or months of planning in pieces. I could see its smirk, knowing it held an answer I couldn't predict.
I opened it to find about a two-foot path…to another door. Cruel joke. Beyond that door, the bright shop lights forced my pupils to adjust from the dark space of the previous rooms. With focus came the sight of Pierce's #32 Late Model on jacks with part of the rear clip cut off and two men observing it. Adjacent to the car, about five feet away was Pierce sitting at a table with a sandwich, looking over his machine. His body language wasn't encouraging. He looked like he'd lost a friend.
After introductions, I asked the question, "Well, are you racing?"
"Yeah, we're going to try and get it ready for tomorrow," he replied, forcing confidence in his tone.
Good enough for me. Game on. The only thing standing in our way now is 24 hours and a stripped-down race car with a portion of the rear chassis missing.
CHAPTER II: The Hands That Make The Wheel Turn
Before the work came the introductions. First, Bobby Pierce – the 24-year-old dirt Late Model star from Oakwood, IL. He's raced Late Models since he was 13 and won his first Summer Nationals race at 16 years old in 2013. Since then, he's collected 30 Summer Nationals victories – along with his three championships – his elusive World 100 victory and picked up his first two World of Outlaws Morton Buildings Late Model wins this year.
He didn't run the full Summer Nationals tour in 2020 due to COVID and finished second in points in 2019. Initially, he stated he didn't think he'd run enough events this year to go after another title…but more on that later.
"It's a good opportunity to get a lot of racing in, in a short amount of time," Pierce said about running the Summer Nationals. "A lot of the tracks that it goes to are in my area. I say in my area, but sometimes we drive six hours. It's just a really good opportunity. If you're running good, you can make some pretty good money doing it. And if you can win the Hell Tour, it's obviously a big accomplishment.
"It's one of the toughest series there is. There're so many races in the summertime when it's hot. You have to have everything ready."
At that moment he looked at his car and added, "We're not really ready right now."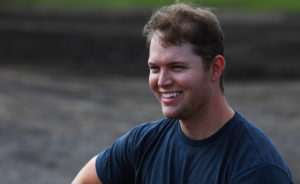 A race-ready "back-up car" slept in hibernation atop the team hauler, however, to Pierce, the one in pieces is his ace in the hole. It already brought him several big wins and had a comfortability he didn't want to lose.
Leading the repairs on the #32 machine was the man who made the number iconic in the dirt Late Model world, Bob Pierce – Bobby's father who dominated Illinois bullrings for 40 years and conquered the prestigious Prairie Dirt Classic five times. Bob Pierce was inducted into the National Dirt Late Model Hall of Fame in 2003. Since 2005, he's designed and built some of the most successful Modified and Late Model chassis in the business. From 2005 to 2009, Bob said he built about 100 cars a year.
My initial pleasantries with him were short. There was only one thing he cared about that day – getting the car ready for Summer Nationals. It was an observation made even clearer when his phone rang.
"Who the **** is calling me? Don't they know it's Summer Nationals?"
While in his 70s, the pages of history in his mind are still fresh off the printer. His friend and crew member for the week, Tony Thomas, asked him about a race he ran in the '80s and the elder Pierce recited to exact detail what happened throughout the race, the types of brakes he had on the car and how the track changed throughout the night. This wasn't a one-off memory, either. Ask him about any race he or Bobby has run, and he'll tell you every detail. I can barely remember what I had for lunch yesterday.
For the 2000 season, Bob Pierce had Thomas by his side helping him work on the work. Knowing the toll Summer Nationals can take on a team, Pierce recruited his old friend for the week to help get the car ready and wrench on it for the first six races of the tour.
"I've known him forever," Thomas said of his acquaintance with Pierce. "I was walking through the pits of Terre Haute and saw Bob was by himself and asked if he needed any help, and he said, 'Yeah.' I think we went on to win 17 races with him that year. I had a good little career working with him. I like working with him. Bobby, he was still a little turd running around (he said while looking at Bobby and laughing). No, he's become a pretty good racer."
Thomas, of Martinsville, IN, grew up helping another legendary name in dirt Late Model racing – O'Neal. Like with the Pierce father and son combo, Thomas spent many years working on Don O'Neal and his son Hudson O'Neal's cars.
If labels were handed out, you could consider Bob Pierce the crew chief, while Thomas acted as the car chief for the week, taking care of several mechanical aspects of the car.
Rounding out the team and shepherding the abundance of tires that took up about a quarter of the two-bay garage was Kyle Albury – or "Mullet" as Bob would call him due to his shoulder-length hairstyle. I classified him as the "tire specialist," a term he smiled with glee at, but didn't waste time to showcase his wit by correcting it as "tire bitch."
Eight weeks prior, Albury was in Florida, working his day-to-day job in the scrap metal business. After seeing Pierce's wheel fall off during a race at Bristol Motor Speedway, visions of a different path projected in his deep thoughts. He reached out to the Pierces about joining the team and when they called back, he dropped everything. With his truck and a suitcase of clothes, he made the 1,026-mile, 16-hour, culture shock trip from Florida to Illinois.
"It's something different," Albury said about why the sudden career change. "I've been doing the same business for 16 years. I've been in the scrap business for most of my life. I've always wanted to go racing. I got an opportunity and I jumped on it.
"I've never been on a tour. I've never been on a professional team. I've been to local shows and helped guys out at the racetrack. It's pretty crazy. It's a lot of work. A lot of people don't see behind the scenes and the ton of work that goes on, rather than just showing up to the racetrack. Last week, we generated 51 tires to go to Eldora and Summer Nationals. I've got 20 more new tires in here for this week."
The entire team was welcoming, although I got the sense I needed to earn Bob Pierce's approval. Understandable, though, as who the hell would trust a random media guy, who has never worked on a Late Model, to jump in and not be in the way. That was my goal. Work as hard as they needed me to and not screw anything up in the process.
Luckily, Bobby already had a task for me in mind.
"Could you sweep out the top of the trailer?"
CHAPTER III: The Long Night
Not everyone is cut out to be a crew member. It sounds cool to say you work for a race team, but with the title comes long days and long nights of work. And, at times, a lot of sweeping. Which, apparently, some people aren't cut out for.
A young kid who graduated from a motorsports school had joined the team before I arrived and according to Albury, it didn't take long for him to realize he wasn't cut out for the work. Even sweeping. While doing the task I was sent to do, sweep out the dirt from the top of the race hauler, he didn't pay attention to where he was stepping and fell off the gate. He was fine, but in pain for a while. That was his last day on the job.
My years of mastery with a broom from sweeping the floor of my dad's shop proved beneficial as I passed my first task and was then upgraded to power tools and an air hose. More than 20 tires needed to be prepped. New panels needed to be cut and shaped. Brackets needed to be built. Existing panels needed to be riveted. Bolts needed to be checked. Fluids needed to go back in the engine. Oh, and the back quarter of the reclip needed to be measured, built and welded. A lot of shit needed to be done.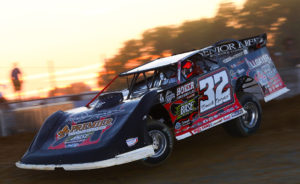 Albury was focused on the tires; Bob was focused on the rear clip; Tony jumped around to wherever he could lend a hand; Bobby got to work rebuilding panels. It's a task the younger Pierce said he takes upon himself. He won't even let his dad do it. Bobby has his own method and preferences for how it's done and how it looks. It's obvious he's done it a time or two with the effortless movements of tracing the templates onto spare pieces of sheet metal and cutting it without pausing.
After lending an extra hand when rarely needed for Pierce's panel-making process, I turned my attention to helping Albury and Thomas mount tires and get them to the needed size. A "chalk mark" comes on every Hoosier tire, signifying what the circumference should be when blown up but that's not always the case. Albury takes pride in his role of tire wrangling and making sure the team has exactly what they need. An inch or half off is not acceptable. When Pierce pulls into Victory Lane, he knows those are his tires rolling the car in there. He won't allow himself to be the reason they lose because there's a small detail off with the tires. If a measurement was to his liking, I was tasked with blowing the tire up well past what would normally be in it to stretch it and get the size to where he wants it.
The main piece of the puzzle that needed to be placed before the rest could snap together was the rear clip. The shop's welder, a young kid in his early 20s, was yet another master of his craft, welding the rear section that surrounds the fuel cell together in what felt like the same amount of time Jimmy Johns hands you your sandwich. Once the paint dried, assembly took precedence.
However, like a broken puzzle piece taped back together, everything didn't line up quite right. A couple of brackets were welded in the wrong spots and had to be moved to continue. With a few curses under his breath, Bob cut the brackets off and welded them where they needed to be. It was a simple fix but delayed the process about another hour, pushing the comfort of daylight further away outside.
With the brackets back in place, the Pierces and Thomas did the heavy lifting of bolting the rear pieces back together, while I stepped in wherever a hand was needed or rivet needed to be placed. The focus of the work and excitement of the end nearing, along with a few Casey's pizzas, accelerated time. By the time someone was brave enough to look at the clock we neared 1:30 a.m. with only a few minor details left.
I entered the shop at 10 a.m. and said my goodbyes near 2 a.m. the next morning – the morning of the first race of the 2021 Summer Nationals tour at Brownstown Speedway. In that time span, I saw a race car go from wrecked to race ready and a race car driver do the same.
"Well, boss, after Saturday night, if you told me we were going to make it to Brownstown (Speedway) I'd tell you you're a liar," Albury said to Pierce.
CHAPTER IV: The Glorious Purpose
By 11 a.m. Tuesday morning, the car was nestled atop the clean-swept trailer, ready for the three-hour voyage to Brownstown Speedway in Brownstown, IN. Stepping into Pierce's toter for the morning trip felt like walking into an elegant studio apartment. Hardwood floors. Leather couches. Classy wood cabinets. A flat-screen TV. And a mesmerizing glass opening in the ceiling. There's no dishonor in comfort when trekking into the Hell Tour.
Brownstown Speedway – made famous in my mind from a promotion pushed out by DIRTVision last year with a fan in his best hillbilly voice yelling, "We're goin' to Brownstown!" –  is a quarter-mile track located in the Jackson County Fairgrounds. It holds good memories and miserable ones for Bob Pierce. Opening back up the history book of his career he recalled his first introduction to the track was a Hot Lap session where drivers seemed like they were competing for $10,000 in the couple laps. While he cherishes Bobby's wins, in true race car driver fashion, he can't let his own wins that got away stay in the past.
"I could never win the Jackson 100 (Brownstown Speedway's elusive event)," Pierce said. "But what does Bobby do? Win it in his third try… from the back."
Time works differently as a crew member. Usually, my days at a racetrack consisted of taking pictures, doing interviews and sending out tweets for public relations purposes. The night never dragged on, but always held a steady pace. As a crew member, time is accelerated.
"When we get going, all hell breaks loose," Albury warned me.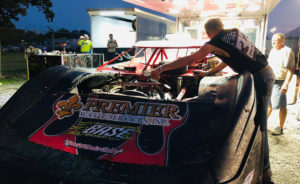 The start of the day is relaxed. Unload the four-wheeler. Unload the pit bike. Unload the pit box. Then unload the car. Pierce's chariot for the night is rolled over a small hydraulic lift and picked up off the ground. The car didn't require much attention at the start of the first night as everything was squared away at the shop.
Bob Pierce made shock adjustments using a shock machine set up in the race hauler, while Albury prepped tires for use throughout the night. That process consisted of grooving – creating his own patterns and lines in the existing pattern of the tread – and siping – making small cuts in the tread allowing the tire to fire off faster. It's a task that keeps him in the hauler most of the night, making sure Pierce has every option he needs available for tire compounds and combinations. His organized system of shelved tires turned into a minefield throughout the floor of the trailer during the night.
When it came time to finally put tires to dirt around the quarter-mile track, a slight hiccup left questions of if the car's speed was still maintained after the Eldora wreck. The transponder was placed in the wrong spot, so Pierce's practice times weren't recorded. There was comfort in his voice, though, when he reported the car still felt normal.
Even with that sentiment, I learned good or bad, when the car comes in all four tires – sometimes only three – come off. Immediately. The 10 to 15 minutes of available work time between parts of the night felt like five minutes with a ticking clock. Albury needs to buff the tires, to get the dirt off and put a light grind on the tread for grip. Usually, clumps of dirt need to be scraped off the car. And Bob needs access to the shocks to make adjustments.
I was appreciative they trusted me to help take the wheels off and put them back on. It sounds simple. And it is. Especially when you've done it all your life. But there's always that anxiety of, "Did I tighten that one nut? Yeah, I'm sure I did. I hope I did. No, I definitely did."
Thankfully, I did.
When racing resumed, Pierce answered the question of whether his car still had speed, and to make sure those in the back heard, he yelled it throughout the night.
Quick Time – Set.
Heat Race – Won.
Best Appearing Car – Won… If only they saw it 24 hours prior.
Aside from Albury's routine of buffing the tires, little was done to Pierce's car before the Feature. Little was said too. When his race suit went on, it was easy to see Pierce's conscience had left for another realm. He was in a room with set-up books and a whiteboard conjuring his plan for the night. The only person I saw have access to the room was his dad when they stood by their notes and discussed what needed to be done to make Pierce and the car symbiotic.
The wheels returned bolted to the car. Wheel covers for the right side followed. Did I get those tight? I think so? No, I know so. Well, we're about to find out. Pierce pulled out on the track and lined up on the outside pole. I was never as excited and nervous to watch a race. Standing with the team near the four-wheeler stacked with tires, a jack and a toolbox, the feeling of being a part of a team sank in. It was easy to see why emotions can run so high for crew members. Hours of work and dedication went into making sure that car was on track in a manner that's competitive. Whether it's getting the tires ready, changing the shocks, adjusting the air pressures, or simply putting a wheel on. Everyone had a hand in making that happen. They put the outcome on their shoulders after that. Hell, 24 hours ago they still weren't even sure they would make it to this race.
Pierce rewarded them and himself by winning the 40-lap Feature with glorious purpose. Tim Lance snuck underneath Pierce for the lead by the halfway point while slow-rolling the bottom. He held the lead from Pierce for three laps, but even that was a mere gift. Once passed, it was easy to see whatever tactical plan Pierce had written on the whiteboard in his mind was set on fire. His entry into the turns became more aggressive. He used the track to his advantage by taking as much real estate for himself as he needed. It was the mannerisms of a man not willing to lose. Pierce claimed the lead on Lap 22 and drove away from the field. However, in the closing laps, Devin Moran entered the picture as a new contender. He closed and closed on Pierce. Two to go, three car lengths. White flag, one car length. Checkered flag, Pierce got it. (Phew, wheels stayed on.)
"That's what this is all about," Thomas said in a gleeful tone.
"Twenty-four hours of work don't mean shit when you do that!" Albury yelled.
I'd watched Pierce win the two big World of Outlaws events early in the year and the exuberant excitement he showcased getting them. That was on display again when he pulled into Victory Lane at Brownstown. However, this time, he dropped the sack of weight he'd been carrying since Eldora, allowing him to smile again.
"We can win this!" Pierce yelled during his DIRTVision interview in Victory Lane.
"This is one of the most humbling sports," Pierce said back at the hauler. "Obviously, this wasn't a dream win, but it's $5,000 Summer Nationals. A very important win. Every win, no matter if it is a local show, it means a lot. It pumps up the guys. That's what we do it for."
Pumped up could've been an understatement for Albury. Reiterating his pride of being a crew member that night, he pointed to the left rear tire.
"I made the call that we should run that tire," he exclaimed like a football coach touting his winning play. "It's rewarding when things like this happen."
There's no room for error with Bob Pierce. When Bobby got back to the hauler, the first conversation Bob had with his son was questioning why he chose to run the bottom for a few laps, pointing out the error in the move. But while Bob leaves no room for mistakes, he has plenty available to celebrate the accomplishment.
"It's redemption from last year when he lost with three to go," Pierce said. "I almost thought he was going to do it again. Like I've said for 30 years, what happens at Eldora, stays at Eldora. What happens in Florida, stays in Florida. You just don't worry about it."
The celebration back at the hauler was brief with a few beers passed around as the crew focused on getting everything loaded back in the hauler to make the three-hour journey west to the shop.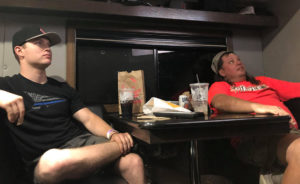 Showing the same no-room-for-error attitude as his dad, Bobby Pierce spent part of the ride back watching the Feature over again, studying himself, taking mental notes.
Like every study session, there needs to be a food break. With the fast pace of the night, a good time to grab track food is limited. However, with the clock showing past midnight, options were limited. Checker's or Taco Bell. The bigger issue, the drive-thru was the only option for both. There was no way the toter and trailer were going to fit through either. Pierce, Albury and I hatched a plan of trying to walk through the drive-thru, knowing there's a good chance we'll be turned away as it's happened before – pulling the race car down and driving through with that was (jokingly) considered, although it's worked for others. To not risk our chance of missing out on food, we cautiously approached a van already in line and asked the driver if we could join him to order our food. Pierce offered to buy his. His bewildered look – understandable – gave little hope at first, but the drop of his bewildered expression said, "Hell, why not," and let us in.
A few Mountain Dews, burritos and cinnamon bites capped off the start of a Summer Nationals championship run.
CHAPTER V: The Early Tour Of Hell
One race down. Five more to go for the week.
Brownstown's proximity to the shop allotted the team the opportunity to return and stock up the trailer before the rest of the tour. For the remainder of the week, they'd be traveling from track to track, sleeping in the toter between races.
The next stop: Peoria Speedway in Peoria, IL – less than two hours west of Pierce's shop. The small high-banked bullring was the sight of Pierce's first Super Late Model win and saw him set the track record last year. After last night's race at Brownstown, I had a good feeling about Peoria, as well.
However, when I got to the trailer that morning, something was different. That wasn't the car we won with last night…
"We want to save our good equipment for places we know we'll need it," Pierce explained about running his "backup car" at Peoria.
While it may be called the backup car, Pierce said to not take it as a derogatory meaning. Other than a different motor and a red chassis, it's identical to the winning car. The amount of attention needed wasn't, though. The atmosphere was denser than Tuesday night. The mood a touch sour.
The setup was not as superb out of the box as the black car. Albury focused on his tires. Bob couldn't be found without a shock in his hand most of the night, trying to give Bobby the feel he needs. Throwing a wrench in the notes they'd already collected, the track felt different to Bobby. More oval than circle-like before. Also, they found the driveshaft needed to be changed before practice.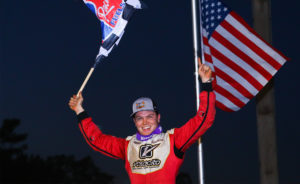 I stayed my course and tried not to alleviate any contentiousness. If Bob or Bobby said, "Do this," I did that. I'd like to think I started to earn Bob Pierce's respect by jumping in with whatever needed to be done. It felt like an honor when he called upon me to do something. Wheels bolted on. Covers bolted on. Air pressures checked. Good to go.
There's no room to slack on any details at any point of the night. The Pierce's treat each part of the night like it's the Feature because it's just as important. It's important to put in a good qualifying run to start up front in the Heat Race. It's important to win the Heat to be in the redraw to be guaranteed a starting spot in the first few rows.
Pierce qualified fourth but took the lead at the start of his Heat Race and went on to win. The celebration was cut short by Pierce having to be pushed back to the trailer. Something large and unfriendly hit the starter and broke it. Replacing it only took minutes. But an unneeded circumstance for the already tense atmosphere.
Luckily, Pierce's win placed him toward the front again for another 40-lap Feature. When the green flag dropped, a battle of the god ensued. The sky darkened. Lightning continuously struck the ground. Lava spewed up around the track. Thunder couldn't mask the cries of fallen deities. Or something like that. From where I stood, even with sunglasses on, a hurricane of dirt hindered my viewing experience. But from what I could see was still one hell of a race.
DIRTcar Summer Nationals PR Coordinator Jordan DeLucia described it best: they were like fighter pilots in a gymnasium.
Pierce lost the lead early to Ryan Unzicker but held on to his coattail for the first three-quarters of the race with Brian Shirley and Moran close behind them. It wasn't until a haymaker slide job with about eight laps to go that Pierce reclaimed the lead. He made home around the top lane and went on to pick up his second win in a row – first of the year with the red car.
"The driver was more awesome than the race car," Bob Pierce said about the night.
The rest of the night was déjà vu. Victory Lane pictures. Load up the car. On to the next race.
Two races down. Four to go.
Thursday brought us to Kankakee Speedway in Kankakee, IL – two hours east of Peoria. The track resembled Brownstown with its semi-banked turns and longer straightaways. However, Pierce stuck with the red car for the event. While it won at Peoria, its gremlins remained.
Before the program started, Thomas and Bob found a rear axle had a slight bend to it. Could he have run it without a problem? Most likely. But as stated before. There's no room for error with the Pierces.
"If we were junkyard racing it would be different," Bobby Pierce said.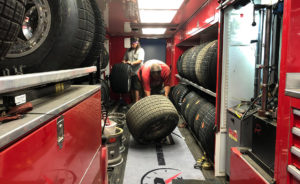 Fixing the axle didn't prove to be a good omen for the rest of the night. Off a late pill draw, Pierce ended up qualifying 10th. When he piloted the car back to the hauler, I stayed the hell out of the way. When his helmet came off, Bobby's frustration with the run targeted his dad, feeling like he didn't show him where to run for qualifying. Bob squashed the argument – more of a quick spat – quickly and they went back to focusing on what needed to be done to make the car fast. In the end, the result of a bad pill draw and no A/B split for Qualifying – due to the number of cars in attendance – led to unwanted results.
After Pierce finished fourth in his Heat Race, Thomas turned to me and said with angst, "it's going to be a long night."
There was little talking to Bobby that night. The door to the space in his head was closed, locked, and soundproofed. He was working formulas Stephen Hawking would raise an eye, trying to find the answers for speed.
It worked. He found it. From his 10th-place starting position, Pierce lived up to his nickname, "Smooth Operator," methodically working his way up through the field. He crossed the line fourth but with Shirley not going to the scales and being disqualified, Pierce was awarded third. The energy back at the trailer felt like we still won. The tensions were gone, and Bobby smiled for the first time that night.
Three races down. Three to go. 
The team drove three and a half hours south to Tri-City Speedway in Granite City, IL – essentially St. Louis, MO – for the fourth straight race of the week, but I took a detour in Springfield to help a friend out for the day. Luckily, they still survived without my help.
Back in the black car, Pierce tried to move the track's wall every lap in his search to run down leader Tanner English around the top lane. He snuck a nose to the outside of English off Turn 4 on the final lap but didn't have a good enough run to power by him for another win and had to settle for second.
From my view on DIRTVision, it was a great run. However, the next day Bob put it as, "The car wasn't good. The driver made it look good."
Four races down. Two to go.
I rejoined the team for Saturday's event at Fairbury Speedway in Fairbury, IL – a three-hour drive from Tri-City. The quarter-mile track is not only in the heart of the city, it is the heart. The number of city signs I've seen that have a dirt Late Model on it start and stop with Fairbury. It's nestled amongst a quiet neighborhood with not much for service or attractions around. And it's one of my favorite tracks.
To this day, the best dirt race I've ever seen was a three-way battle between Kyle Larson, Brad Sweet and James McFadden during a World of Outlaws NOS Energy Drink Sprint Car event at Fairbury. Standing in the infield, watching the three titans of Sprint Car racing arguing who could throw the better slide job at each corner will forever be engraved in my mind. So, yes, I was excited about this one. Especially with rumors of rain potentially ending the week early the next day.
By this point in the week, the team had a good sense of what they'd gotten themselves into.
"I was a little tired after the second night, but then I was fine," said Thomas, who slept in the toter with Bobby and Albury each night.
Albury shared the same sentiment about the grind of the tour but had fears elsewhere.
"We're almost out of fuel, tires and don't have a right rear quarter panel," he said while studying his inventory of usable tires. Not helping their situation was Hoosier's current tire shortage. They had a guy ready to drive to Tennessee for tires if needed.
With the right rear of the black car requiring attention, the red car was pulled out of the box for 50 laps at Fairbury. The general maintenance of the car was already taken care of. My role for the first part of the day was body man. Handing me a hammer, Bobby directed me to the bent pieces of sheet metal off the black car from Tri-City. They were crinkled and folded like a rolled-up piece of paper. My task: make them straight. Fortunately, I, unfortunately, had experience with his role from my previous racing years.
Using a woodblock and a hammer, I put any inner angst into every swing and shaped the pieces of metal back to their original form. It turned out to be great practice for later.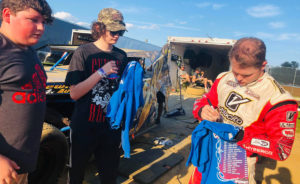 Pierce claimed Quick Time which set a calm mood at the trailer. Bob's humor showed throughout the night. He took a small piece of dirt off the car and tossed it behind his back with a smile, helping to clean the dirt of the car, of course. During a period of downtime, a fan who had asked Bob for his autograph also asked when he was going to get back in a car.
"I'm way too old for that shit," he said with a smile.
When Pierce finished third in the Heat Race after starting on the pole, I didn't know what to expect when he returned to the trailer. To my surprise, the relaxed mood remained. While frustrations can rise in motorsports, the strength of Bob and Bobby is understanding exactly what they have. They know when all is being given and when more can be found. At Fairbury, they knew they had what they had.
Standing on the platform in the track's infield, I watched Pierce get everything he could out of his #32 chariot in the 50-lap Feature. From contact with other cars to bouncing off the cushion to crushing another right rear quarter panel, he fought his way from ninth to fifth.
Not much was said when he returned to the trailer. There was a sense of disappointment in the result after the amount of fight that was put into it. But that didn't stop a plethora of fans from stopping by the trailer and Pierce spending time with each. He tried to come over and help Thomas and I rebuild the right rear quarter of the car – where my earlier bodywork skills came back into play – but more fans required his attention each time.
Like our time back at the shop on Monday, unconcerned about time, we worked until the car was ready to race the next night. This time, it was 1 a.m. at the racetrack. Fortunately, the track left the lights on until we finished.
Five races down. One to go.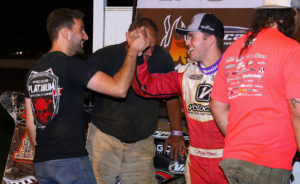 About six hours after we loaded up the car for Sunday's race at Plymouth Speedway, the release came out that persistent rain showers forced the cancellation of the show. With that, Pierce locked up the first-week championship for the DIRTcar Summer Nationals.
He and his team changed their course back to Illinois to regroup, refocus and restock. I changed course back to Concord with memories of an unforgettable experience. A week may not have even been long enough. It was a tease of a wild roller coaster with rises and spins and maybe even an unexpected jump. We see the spectacle these Earth rocket ships produce every weekend – or almost every day during the Summer Nationals – but we never see what it takes to make them launch. It's hours of work. It's life sacrifices. It's the endurance of pain. It's a gambit of emotions in a single day. It's what they love and will continue to do no matter what kind of hell it puts them through.
For Bobby, Bob and Albury, that has led to three more wins and a continued perch on the top of the points standings with two months or racing still to go on the Summer Nationals tour. Not bad for a team that was on the brink of not running most of the first week.
After one of Pierce's wins Albury walked over to me and said, "Write this down… Hard work pays off."
CLICK HERE for the full Summer Nationals schedule.
If you can't make it to the tracks, you can watch every DIRTcar Summer Nationals Late Model event live on DIRTVision with the annual Platinum Fast Pass.